World news story
FC Dnipro vs Tottenham Hotspur travel advice
This was published under the 2010 to 2015 Conservative and Liberal Democrat coalition government
Advice for fans travelling to Ukraine for Tottenham Hotspur's match with FC Dnipro on 20 February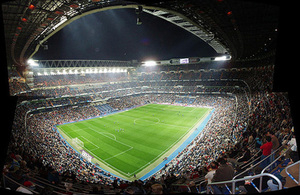 Game: FC Dnipro vs Tottenham Hotspur
Date: 20 February 2014
Time: 20:00 (local time)
Venue: Dnipro Arena Stadium
As well as this advice, check out our travel advice for Ukraine
Political situation in Ukraine
following current political situation in Ukraine we advise you to pay close attention to your personal security, monitor the media for information about possible safety or security risks, avoid demonstrations and public gatherings, as even peaceful protests may turn violent.
There have been demonstrations in Dnipropetrovsk in recent days, some of which have turned violent.
please sign up to Travel Advice alerts or follow FCO Travel Advice on social media channels (Facebook, Twitter) to receive updated information and advice.
Passports and visas
you don't need a visa to travel to Ukraine for less than 3 months, but your passport should be valid for the duration of your stay
your European Health Insurance Card (EHIC) is not valid in Ukraine, so travel insurance is essential, even if you're only going for one night - it could save you a lot of money if you get into difficulties
you must carry your original passport with you at all times for identification purposes; ensure your passport is kept safely and keep a photocopy separately from the original document, as this will help speed up the replacement process if needed; ensure that next of kin details are kept up to date
if you lose your passport you will need to obtain a police report and apply for Emergency Travel Document (ETD) at the Consular Section of the British Embassy in Kyiv; the fee for ETD is £ 95 (1425 UAH) payable in cash in local currency
At the stadium
the Dnipro Arena stadium is located at 7 Khersonska str, 10 minutes walk from the city centre of Dnipropetrovsk; information about Dnipro FC and its stadium can be found on the club website
we recommend that you arrive early for the match; there will be ticket checks and body searches at the entrance
fireworks, alcohol, poles for flags and any item that can be used as a weapon or thrown onto the pitch will not be allowed into the ground
obey instructions from the stadium security to avoid being removed from the stadium and detained by the police
drinking alcohol at football matches is banned; police and security staff have the authority to deny entry into the stadium to spectators under the influence of alcohol, drugs or other toxic substances
do not smoke at the stadium
visiting supporters will be kept behind for around 20 minutes after the match to allow the home fans to disperse
Tips
as in any other city beware of pickpockets and bag snatchers in crowded areas and tourist spots- only carry what you need and leave spare cash and valuables in hotel safety deposits
be wary of accepting drinks in bars from strangers or people you've just met in case they have been spiked
don't smoke and drink alcohol in public places
don't get involved with drugs - the penalties are severe
drink or use only boiled or bottled water
Contact the British Embassy in Kyiv
British Embassy Kyiv
9 Desyatynna St.
01901 Kyiv
Ukraine

Tel: +380 44 490 3660
Email: britconsular.kyiv@fco.gov.uk
www.gov.uk/government/world/ukraine
Emergency services numbers
101 – Fire
102 – Police
103 – Ambulance
112 – Emergency
Further information
Kyiv Boryspil international airport
Dnipropetrovsk international airport
Document information
Published: 13 February 2014