News story
Fast-track planning opens to more business
Football stadiums, car plants and exhibition centres are some of the developments that can now benefit from a fast-track planning process.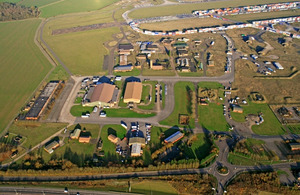 Football stadiums, car plants and exhibition centres are some of the developments that can now benefit from a fast-track planning process, Planning Minister Nick Boles announced today.
For the first time the fast-track system used for deciding nationally significant infrastructure projects - such as transport and energy projects - will be widened to cover the most significant business and commercial projects that deliver jobs and boost the economy.
Previously the nationally significant infrastructure regime was only open to development covering transport, energy, water, waste and waste water.
But now the government proposes to include the following types of development as well:
manufacturing and processing: eg car factories and food processing plants
leisure, tourism, sports and recreation: eg sports stadiums, theme parks and hotel complexes
offices and research and development centres
warehousing, storage and distribution sites
conference and exhibition centres
aggregate and industrial minerals: eg sand, gravel.
Under the proposed changes developers can ask for their application to be determined at a national level through the infrastructure planning system. This will ensure decisions are made within 12 months from the beginning of examination.
Existing requirements to consult local communities are retained.
Planning Minister Nick Boles said:
We are determined to help bring about new investment and jobs. Making sure businesses can have confidence in quicker and better planning decisions is an important part of that.

Opening up the fast-track system will help get sustainable development underway sooner and minimise delays that only bring uncertainty for local people and businesses looking to create jobs.
The new fast-track measure has the potential to save business tens of thousands of pounds in planning fees and reduce the planning process by months.
Effective 21st century planning policy recognises and seeks to address potential barriers to investment. The reforms set out today are part of a package of government measures to improve the planning system including:
reducing confusing and overlapping red tape
cutting the number of consents required by developers and the number of bodies needing to be consulted on every application
opening up a streamlined 'one-stop-shop' Consents Service Unit
introducing simpler, streamlined planning processes to boost firms in the 24 Enterprise Zones - which have already attracted 126 new businesses, created more than 3,000 jobs, developed 105,000 square metres of new commercial floorspace and secured almost £229 million of private sector investment
Further information
Summary of responses and the government's response to the consultation was published today.
The new categories do not include retail-led schemes and residential proposals.
The government will introduce draft regulations setting out the types of business and commercial development for final approval by Parliament.
Published 21 June 2013