News story
Fast Track applications closed
The Civil Service Fast Track will open for applications in early 2018. Find out how to get updates on the next application window here.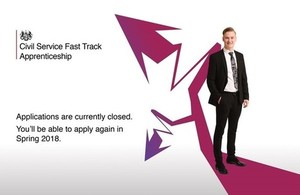 The 2018 application window has now opened, for more information please check the rest of our website.
Applications to the Fast Track Apprenticeship scheme will be invited early in 2018. You can pre-register for the programme by sending your name and email address to: fasttrack.preregister@cabinetoffice.gov.uk. This lets us know you intend to apply and enables us to notify you when the application window opens.
Published 31 May 2017