Press release
Farming industry 'the economic backbone' of rural Wales
Secretaries of State support Denbigh & Flint Show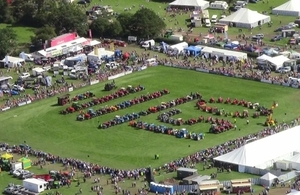 From fast paced main ring attractions, to a food hall packed with local traders and producers, UK Government ministers have today experienced a one-day showcase for rural Welsh life at the Denbigh and Flint Show (15 August).
The Secretary of State for Wales, David Jones MP and Secretary of State for Environment, Food and Rural Affairs, Owen Paterson MP, joined the thousands of visitors attending the annual agricultural show on The Green in Denbigh today.
As part of a busy schedule, Mr Jones and Mr Paterson met with representatives of farming organisations to discuss issues facing the agriculture sector in Wales, and took the opportunity to sample the variety of Welsh produce on offer.
Secretary of State for Wales, David Jones said:
The agricultural show season is something I look forward to every year, and I was delighted to start my summer with a visit to the Royal Welsh Agricultural Show in Llanelwedd last month.
However, our local agricultural shows are unique in their content and character. The Denbigh and Flint Show in particular is recognised as one of the UK's most impressive rural events, with strong attendance and high quality livestock and show jumping displays. It was heartening to see the rural population once again out in force here today, and lending their support to local farmers and producers.
Throughout the centuries, Wales has depended on its agricultural industry to provide produce, jobs, to maintain a healthy environment and to support a strong economy.
The important role that the export of British produce to overseas market has to play in the recovery of the economy was highlighted by the Secretary of State during his trade and investment visit to Asia.
Mr Jones added:
During my visit to Hong Kong earlier this year, I was able to see first hand the enthusiasm consumers in Asia have for British produce, and for Welsh lamb in particular. Hong Kong is an important market for Welsh lamb and has been for a number of years, helping to boost its reputation in the Far East as a premium product.
Environment Secretary Owen Paterson said:
Welsh farming makes a big contribution to the British economy. In the last year alone, Wales exported over £265 million worth of food and animal products and there's a huge market for Welsh products at home, too. I want to hear farmers' views on what more Government can do to help them build on this success.
Earlier this year, the UK secured important changes to the Common Agricultural Policy, protecting the interests of Welsh farmers, consumers and taxpayers. Wales now has the freedom to tailor its implementation of the CAP to suit its own farmers, deliver environmental benefits and choose how to move towards flat-rate direct payments.
NOTES TO EDITORS
*For further information about the Denbigh & Flint Show, visit http://www.denbighandflintshow.com/
*For press enquiries, please contact: Lynette Bowley at the Wales Office on 029 2092 4204 / 07826 868 891 / lynette.bowley@walesoffice.gsi.gov.uk
DEFRA press office: 020 7238 6092
Published 15 August 2013