Farmers to reap rewards from registering waste exemptions online
A brand new digital service for registering waste exemptions online has been rolled out by the Environment Agency.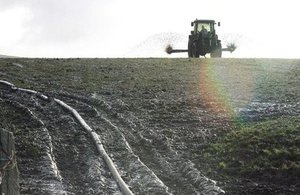 The Environment Agency is encouraging farmers and other businesses owners to go online to register as an estimated 70,000 farmers get ready to submit up to 500,000 agricultural waste exemptions this summer. The new digital service, launched in March 2016, has been designed to make online registration quicker, easier and more efficient than ever before. Nearly 10,000 exemptions have been registered since the new service's launch.
Farms and other businesses which handle small quantities of waste or low-risk wastes may be able to save money by registering for a free exemption if they meet the limits and conditions rather than paying an annual fee for an environmental permit.
High volume of exemption registrations expected this summer
As most farmers registered for a 3-year exemption after new rules came into effect in 2013, the Environment Agency is expecting up to half a million agricultural waste exemptions to be submitted before October as the current ones expire and need to be re-registered.
Since 2013 there have been radical changes to make registering online easier following feedback from those submitting exemptions. The new service went through comprehensive user testing before its launch, resulting in improvements which include:
New design to make the service simpler and more intuitive to use
Ability to access the service from more browsers and devices, including smartphones and tablets
Increased accessibility to those with special user needs, including voice-activated software
Digital by default
The new waste exemption service has replaced the paper and e-form options as waste exemptions moved to being 'digital by default' to make the process easier for farmers and other businesses. John Hewitt, a farmer of 40 years who runs a 200 hectare farm in Lincolnshire, has registered online using the new system. He advises other farmers: "It's an easy service to use, just spend a few minutes reading the instructions and follow it [the online service] through."
Feedback will be collected from those using the 'live' online waste registration service to ensure it continues to be developed in a way that meets the needs of farmers, landowners and other users.
Nicky Cunningham, Deputy Director of Site-based Regulation at the Environment Agency, said:
As we get ready to receive thousands of waste exemption registrations this summer, we are recommending farmers, landowners and businesses submit online using our improved easy-to-use service. We've gathered feedback from those registering exemptions to ensure the process is now simpler and more intuitive than ever before.
If anyone registering for an exemption needs help with the online service or is unable to access the internet, they can contact the Environment Agency on 03708 506 506 for advice.
You can access the new system on https://www.gov.uk/guidance/register-your-waste-exemptions-environmental-permits
Published 24 May 2016