DFID Research: Helping vulnerable South African teenagers cope with the impact of AIDS
Young people in South Africa are being given the skills required to improve their lives when facing the problems associated with the AIDS pandemic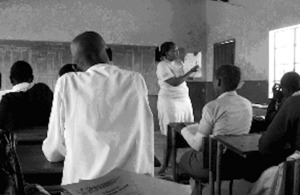 Research from the DFID-funded ABBA project (Addressing the Balance of Burden in AIDS) has started to show the effectiveness of programmes that give young people the skills to improve their lot in the face of the problems associated with the AIDS pandemic in South Africa.
The research, which was carried out by ABBA researchers from the Population Council and local partners, evaluated a program that aims to reach young people with a comprehensive package of skills that are not only HIV-related but also designed to address other social and economic inequalities.
The programme in question, Siyakha Nentsha (which means "Building with Young People" in isiZulu), targets young adults in schools in poor peri-urban areas of KwaZulu Natal. Siyakha Nentsha uses school-trained young adults from the community to teach combined financial and health-related life skills.
The young trainers help people develop skills to manage personal and family financial resources, helping them to access any social benefits and education and training opportunities to which they may be entitled. The mentors help the young people to plan and develop aspirations, and to save for their future. At the same time the trainers aim to increase knowledge of HIV/AIDS, other sexually-transmitted infections and practices to prevent pregnancy, as well as discussing services that help prevention or provide care and treatment. Training is very practical and is based on teaching young people to put what they have learned into action, and to share their knowledge with their family and peers.
How one girl was helped
The story of 1 15-year old shows exactly how important these support programmes can be:
When Lindiwe wrote in her class workbook that she "wanted to die", a young adult facilitator in charge of her class read the entry and went to her home to find out why. Lindiwe has a younger sister and brother. Their mother died in 2004 and the children have never seen their father; they don't know who he is or where he lives. Since their mother's death, they have been living with relatives. These carers receive old-age pensions, which they use to see to the needs of the children and other family members. Lately, though, Lindiwe learned that their chief carer is no longer going to be able to care for her or her siblings due to financial problems. Lindiwe herself has already been making the long and expensive trip to Durban every weekend looking for work, but isn't able to find enough money to support herself and her siblings. She fears what will happen to them, and feels responsibility as the eldest. Siyakha Nentsha staff are intervening in this case, and with the skills she is acquiring in the programme, Lindiwe (and many more like her) will have the skills and information required to find the help they need.
Lindiwe and her siblings are just 3 of many young people orphaned in their community. South Africa has social protection programs in place for children like these, but many people in the most disadvantaged situations do not know how to access them.
The KwaZulu Natal Department of Education are supportive of the programme and armed with the evidence from the research that it can make a real difference, are hopeful that the experiment can be scaled out to many more schools in the near future.
Published 8 September 2009