Press release
Farm businesses could benefit from easier access to €360 billion of EU funding (Archived)
Environment Secretary Elizabeth Truss will meet with UK farmers and banking experts today to make the best use of available EU funding.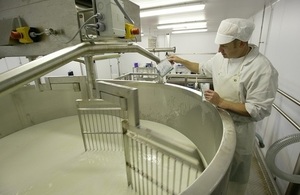 The food and farming industry could benefit from an extra €360 billion in EU funding to help SMEs and larger processors grow their businesses, the Environment Secretary Elizabeth Truss said today.
In a meeting with UK farmers and banking experts she will agree plans to make best use of these funds to boost the productivity and competitiveness of farm businesses. This important funding would only be available if we remain part of the EU.
The money can be used to help build successful British agricultural businesses, including grants to fund start-ups, improve infrastructure, develop skills, find business partners abroad and pilot new product lines.
Between 2011 and 2015, dairy companies in the UK invested just €468m in their businesses, compared to €1.4bn in Germany and €785m in Ireland - highlighting the opportunities that additional funding could bring to the UK industry.
Investment in additional processing capacity, for example, would help us address the £1.3bn dairy deficit, which means less than half the butter and cheese we eat is made here in the UK.
Environment Secretary Elizabeth Truss said:
Unlocking access to our share of €360 billion of European funding will help unleash the talent and ambition across our world-leading food and farming industry, from supporting punchy start-ups to developing the very latest technology in production methods.

Last year our dairy exports hit £1.4 billion so we know there's a growing appetite for quality British dairy products. The funding will help innovative businesses produce more high-demand products such as yoghurts and cheeses in the UK, creating more jobs, increasing productivity and making the sector more resilient.
Artisan cheese manufacturer Cows & Co, which has its creamery in Cumbria and dairy herd in Dumfriesshire, is one such farm business seeking to access EU funding to support its expansion.
Cows & Co is bringing together a group of farmers in the borders area who have additional capacity to produce high-quality milk to make cheese. Together, they are looking to create unpasteurised cheese to sell into the many specialist shops across the UK that have sprung up to cater for the increasing demand in top-quality British cheeses.
While Cows & Co has the necessary producing, processing and marketing expertise within its group, moving into unpasteurised products requires investing in separate processing facilities – which is where EU support can provide the head start the project needs.
Stuart MacLennan of Cows & Co, who will speak at today's meeting, said:
Cows and Co Group are committed to investing in our business to grow the premium markets that are fundamental to adding sustainable profitability to the dairy industry. Accessing the right funding is a pivotal catalyst to delivering this strategy as well as investing in new technologies and new routes to market.
Other attendees at the meeting include representatives from the European Investment Bank, the European Commission, British high street banks, Dairy UK, National Farmers Union, the Agriculture and Horticulture Development Board, Dairy Crest and Muller. They will look at opportunities for investment in the dairy supply chain as well as ways for the industry and its partners to identify relevant projects and access EU funds.
The roundtable is part of Defra's continued efforts to support the farming industry as it faces the pressure of global volatility and low commodity prices.
In addition to the introduction of extended tax averaging and securing the third-largest settlement of all EU Member States in direct aid for our dairy farmers, the government has backed the creation of a futures market for dairy, pushed for the creation of an Agricultural Markets Taskforce to enhance transparency in the supply chain, and is opening up new export markets.
Published 24 May 2016