Government response
FAO assessment of the impact of famine in Somalia
International Development Secretary comments on FAO report that additional 260,000 people died in 2010-2012 crisis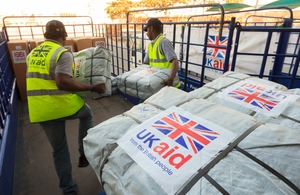 Responding to the United Nations Food & Agriculture Organisation latest assessment of the impact of the recent famine in Somalia, the UK's International Development Secretary Justine Greening said:
"This is a sobering reminder that Somalia's famine was one of the worst disasters of recent times.
"There is now new hope in Somalia. For the first time in a generation, the new government is able to put in place a plan to rebuild the country.
"Next week's conference in London must give Somalia the support it needs to create a more peaceful and prosperous future."
Background:
The FAO's latest mortality survey of the famine in Somalia estimated that between October 2010 and April 2012 an additional 260,000 people were killed by the famine. Approximately half of these were children under the age of 5.

A deadly combination of poverty, armed conflict, drought and disease caused untold devastation across the country in 2010 and 2011.

The UK helped over 1 million people in Somalia with the food, nutrition, shelter, livelihoods and clean water they needed to survive during the famine.

The UK Prime Minister David Cameron and Somalia's President Hassan Sheikh Mohamud will co-host next week's international conference on Somalia in London on 7th May. The conference will provide international support for the Government of Somalia as they rebuild their country after two decades of conflict.

Britain will set out how it will tackle the root cause of famine and ensure they are better prepared to stop bad droughts turning into famines. It is vital that other countries join us and support Somalia's efforts to build a brighter future.
Published 2 May 2013