Press release
Fallon hails Horizon's boost to nuclear investment and jobs in the UK
Michael Fallon meets Hitachi and Horizon, who are planning to invest £20 billion in new nuclear plants at Wylfa in Anglesey and Oldbury in Gloucestershire.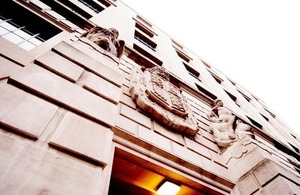 The Business and Energy Minister, Michael Fallon will today meet executives from Hitachi and Horizon, who are planning to invest £20 billion in new nuclear plants at Wylfa in Anglesey and Oldbury in Gloucestershire.
Speaking ahead of the visit, Michael Fallon said:
"Nuclear in the UK is about more than just one project. Three ventures – including the Horizon project I'm visiting – are making serious progress.
"Momentum is building, and when companies across the globe are thinking nuclear, I want them to think Britain.
"I want to be clear that we are firmly committed to ensuring that new nuclear goes ahead in this country. Nuclear already provides around a fifth of our electricity, so it is vital for our energy security now, and in future.
"While new build is hugely important, UK nuclear is also about developing and exporting our world-leading decommissioning expertise, and boosting the domestic supply-chain, creating new skilled jobs across the country.
"Today, I am delighted to be meeting senior executives from Hitachi and Horizon to get an update on their new nuclear build programme and to meet businesses that will be bidding for supply-chain contracts.
"Our industrial strategy has set out a long- term plan and commitment to the UK's nuclear industry, to foster exactly this sort of investment. By working in partnership with industry, we can give that confidence to invest, help build the supply chain and create high-skilled jobs here in Britain.
"Hitachi has made a 100-year commitment to investing in nuclear in the UK, with £20 billion planned investment in reactors at Wylfa and Oldbury.
"We welcome international investment in our energy infrastructure, but this project is particularly exciting because it will provide thousands of jobs for British workers and hundreds of contracts for British businesses.
"Hitachi has said that about 60% of the value of their first nuclear plant is expected to be sourced locally and already, agreements have been signed with two of our best known brands, Babcock International and Rolls Royce to provide parts for the new reactors.
"But it is not just engineering businesses that stand to benefit. Today, local companies will find out about a whole host of contracts that will become available from major construction and engineering contracts through to supply-chain and service contracts for facilities on-site in things like equipment, fencing, cleaning and catering.
"So, the knock-on effects of this development could be massive, providing a welcome boost for the local economy and community.
"Hitachi expect that up to 6,000 jobs will be directly supported during construction at each site, with a further 1,000 permanent jobs at each site once operational.
"We are also working with the Nuclear National Skills Academy to ensure that we train UK apprentices and graduates to benefit from the skilled jobs that become available.
"Hitachi plan to build 2-3 reactors at each site with the first station in Wylfa coming online in the first half of the 2020s.
"Horizon will provide enough clean energy to power 10 million homes over 60 years, ensuring we can keep the lights on and people's bills down".
Alan Raymant, Horizon Chief Operating Officer said:
"Our projects at Wylfa and Oldbury represent an investment of around £20billion in the UK, and can provide a much-needed boost to the national economy".
"We are delighted to be able to lay out our plans today, and discuss how we can work alongside government and potential suppliers to ensure UK firms are well placed to take advantage of the opportunities our project will create, and to maximise benefits for the UK economy".
The Minister will meet senior executives from Horizon and Hitachi on Thursday 23 May, plus representatives from the Nuclear National Skills Academy, before addressing an event attended by hundreds of businesses who are hoping to bid for contracts that will become available.
This comes ahead of a visit by the Secretary of State, Edward Davey next week to Japan and South Korea, where he will meet a number of businesses and investors in energy, as well as executives from Hitachi.
Notes for editors
The government's Nuclear Industrial Strategy sets out shared commitments with industry. It takes a long-term approach to the opportunities for economic growth and job creation from the nuclear industry

There are three new nuclear ventures under way in the UK. Horizon Nuclear Power's plan sit alongside plans by EdF to build initially at Hinkley Point in Somerset, and plans by NuGen to build at Sellafield:

Horizon owns two new nuclear sites at Wylfa in Anglesey and Oldbury-on-Severn in Gloucestershire and was acquired by Hitachi in November 2012.

The government's Nuclear Supply Chain Action plan sets out what Government is doing to ensure the UK supply chain is competitive and ready to deliver

A new Nuclear Industry Council has also been established to ensure that the UK's nuclear industry can develop the capabilities it needs to compete in a competitive global market

Two to three Advanced Boiling Water Reactors (ABWR) will be built at each Horizon site, beginning with two at Wylfa. This will be the only Generation III + reactor in operation anywhere in the world, with four ABWRs in Japan, and three others under construction in Japan and Taiwan. For more information about the Generic Design Assessment for new nuclear reactors, please visit: http://www.hse.gov.uk/newreactors/
Published 23 May 2013