Faithful Gather at Kandahar Air Field for Eid al-Adha
Celebrations for last week's Muslim festival of Eid ul Adha at the military base in Kandahar were led by the Imam to the British Armed Forces.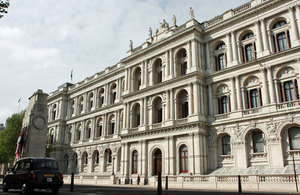 On the cold sunny morning of Tuesday 15th November, a 600 strong congregation comprised of ISAF Muslim soldiers and local Afghan workers joined together to celebrate Eid ul Adha in the centre of Kandahar Airbase. Sermons were delivered by the Imam to the British Armed Forces and the Imam of the local 205 Corps of the Afghan National Army (ANA), demonstrating the united relationship between ISAF and the ANA. The sight of ISAF soldiers and local community joining together to celebrate their faith offered some momentary respite in the difficult environment of Afghanistan for the whole camp, where fellow soldiers came to observe the ceremony.
Eid ul Adha is one of two highly important Muslim festivals in the Islamic calendar. The British Imam, Asim Hafiz drew his sermon from Abraham's teachings on loyalty and commitment to duties. The Imam asked the soldiers to concentrate on these principles and draw strength from these teachings.
This service provided an opportunity for ISAF to demonstrate respect for the Muslim faith by providing a service for all Muslims on the base. One young American pilot commented on the sense of unity he felt being able to pray with fellow Muslim soldiers from other countries and with local Afghan, in a celebration that counters the insurgent messages that ISAF are at war with Islam.
Published 21 November 2010