Faith matters: New hope for Pakistan
Foreign Office Minister Alistair Burt met with participants of the New Horizons project on 20 February.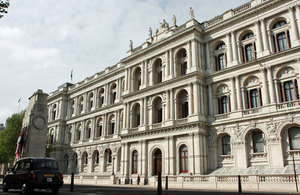 New Horizons aims to improve relations between Christian and Muslim communities in Pakistan and the UK. The project grew out of an attack on Christians in Gujrat and the positive response of the local Muslim community in support of Christians. The project was initiated by Yaqub Masih, a lay canon at Wakefield Cathedral, and Suffragan Bishop of Wakefield, the Rt Rev Tony Robinson. Both accompanied a group of 12, including priests, imams and police officers of both religions, from Pakistan, to the reception with the Foreign Office Minister.
He said:
"Hearts and minds are rarely changed by government to government dialogue on interfaith matters. It is at local level that people need to get on with each other. This project brings together leaders who can achieve this in their local communities and inspire others, both in the UK and Pakistan. I wish them well."
The Foreign Office Minister thanked the group for their hard work and bravery in being involved in this project. He asked them to use their time in the UK to 'learn and teach, and build relationships'.
The New Horizons group, whose trip to the UK is supported by the Foreign Office, will spend the remainder of the week in West Yorkshire meeting with various religious and community groups.
Published 20 February 2012