Press release
Eye-catching British technologies will be promoted at the UK Investment Summit Wales 2014
Innovative technologies to be showcased at the UK Investment Summit Wales 2014 (20 to 21 November 2014).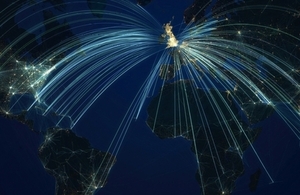 A James Bond style high performance speedboat that transforms into a streamlined submersible and the UK's first 3D printed metal bicycle, are just 2 of the innovative technologies to be showcased at the UK Investment Summit Wales 2014.
The conference (20 to 21 November 2014) at the Celtic Manor Resort in Newport, supported by the UK and Welsh governments, brings together more than 250 global investors, business leaders and ministers and brings another high-profile global event to Wales hot on the heels of the NATO summit.
It will be a global showcase for British innovation and skills with a number of products and technologies developed in the UK, including Wales, taking centre stage at the exhibition which runs alongside the conference.
Secretary of State for Wales Stephen Crabb said:
These products are outstanding examples of why our nation deserves its growing global reputation for innovation. This inventiveness, talent and skill will be showcased to international investors at this month's summit, leaving them in no doubt as to why Wales should be top of their list as a destination for inward investment.

The calibre of these products also demonstrates that our long-term economic plan is creating the right conditions for businesses in Wales to have the confidence to invest in high-tech product development, create jobs and drive growth.
UK Trade and Investment Chief Executive, Dominic Jermey said:
Innovation and ingenuity are at the very beating heart of Wales and the UK as a whole. This is what catches the eye of investors and business partners from across the world.

With 2 weeks to go until the UK Investment Summit in Newport, it is exciting to see some of the designs on display, from Wales and across the UK. The UK really does offer a world of investment opportunities.
Economy Minister, Welsh Government, Edwina Hart said:
This small selection of unique products and technologies developed and manufactured in Wales provide a superb advertisement for the capability and expertise within Wales. It illustrates quite clearly that Wales has the skills, the technology and the expertise needed to grow a successful business and is a great location for innovative companies looking to invest.
A selection of innovative products confirmed to date include:
the world's first purpose-built, hydrogen fuel cell motorbike which is made by Loughborough based company Intelligent Energy
clean tech company Pavegen, from London, who have globally pioneered a flooring technology that converts the wasted kinetic energy from footsteps into renewable electricity
Unmanned Aerial Vehicles (UAVs) made by Maplebird in Bath who have patented an engine that is designed to power insect-like flapping wing flight
personal protective equipment featuring a unique patented impact protection technology will be on display by D30, based in Brighton
a model of an Airbus A380 aircraft - the world's largest airliner – from Broughton, Wales
a 4-wheeled mountain bike powered by gravity for extreme sports enthusiasts, produced by Project Enduro in Swansea
Raspberry Pi (Pencoed) the credit card sized mini computer – one of the smallest personal computers in the world - which teaches students to programme computers is made at Sony UK Technology Centre
the world's first 3D printed metal bike frame from Renishaw in Cardiff.
a watercraft that moves across and under the water from Scubacraft Ltd in Anglesey
Sure Chill in Tywyn, Wales, who have developed technology to keep refrigerators cool without power for over 10 days, including lifesaving medicines and vaccines
holographic and 3D imaging for advertising and retail, education, science and medicine, engineering, museums and heritage from View Holographics in St Asaph, Wales
Notes to editors:
UK Trade and Investment (UKTI) is the government department that helps UK-based companies succeed in the global economy. It also helps overseas companies bring their high quality investment to the UK's economy – acknowledged as Europe's best place from which to succeed in global business. UKTI offers expertise and contacts through its extensive network of specialists in the UK, and in British embassies and other diplomatic offices around the world. It provides companies with the tools they require to be competitive on the world stage.
To find out more about the Summit visit UK Investment Summit Wales 2014 or follow us on #InvestinWales2014
Published 7 November 2014