News story
Extra UK help for refugees arriving in Western Balkans
New support will provide emergency supplies for refugees and migrants in Europe.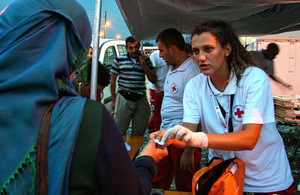 Tens of thousands of people who have made the dangerous journey to the Western Balkans will receive immediate, lifesaving humanitarian assistance with new funding from the UK, International Development Secretary Justine Greening announced today.
A £5 million funding package is being released to the Start Network – a group of humanitarian organisations responding to emergencies.
This support will provide emergency relief supplies such as sleeping bags, towels, rain wear, hygiene kits, nappies, food and clean water for refugees and migrants in Greece, Serbia and Macedonia.
Justine Greening said:
From day one of the Syria crisis the UK has been at the forefront of the humanitarian response. We've helped millions to stay in the region, given asylum to those who most need it, used our Royal Navy ships to save lives in the Mediterranean, and taken on the criminal people-smuggling gangs who are profiting from people's suffering.

But the crisis is worsening and the number of people fleeing the conflict, persecution and hopelessness in Syria is growing. Across the Middle East and in parts of Europe Syrian children and their families, scarred by war, now face worsening winter conditions, many dressed in nothing but the light summer clothes they escaped in.

Some are forced to sleep in the open so this latest assistance from the UK – food, water and sleeping bags – is simple but badly needed. The UK can be proud of the help we're giving. But unless other countries match the UK's lead and step up now with new funding to meet the humanitarian needs in Syria and beyond, the numbers of desperate people on our doorstep will continue to grow.
This support builds on the UK's £20m funding for organisations including UNHCR, International Organisation for Migration and the International Red Cross to support refugees and migrants.
Notes to Editors
The UK is the second largest bilateral donor to the Syria crisis, and has given more than £1.1 billion since the crisis began – more than most other European countries put together.

In total, the UK has committed nearly £25 million in countries that refugees and migrants are leaving from and transiting through includes:

£16.5 million to provide life-saving aid to migrants and refugees and support to governments in managing registration in Europe, the Western Balkans, and Turkey;
approximately £5 million in countries in Africa including north Africa, for assistance, protection and counselling on options and risks around travel and support for people to return home where required;
£2.5 million to support systems for better understanding and predicting trends in movement, which will help alleviate the pressures that force people to move and allow for a better, more rapid humanitarian response; and
£500,000 to supply tents, blankets and sleeping materials through the EU Civil Protection Mechanism.

The Start Network is a consortium of humanitarian organisations including some of the UK's strongest partners such as Christian Aid, Care, International Rescue Committee, International Medical Corps and Save the Children. The Network is co-ordinating physical, psychosocial and protection assistance over the next five months in southern Europe and the Western Balkans.
Published 2 November 2015