Extra talk-time to those back home for troops in Afghanistan this Christmas
UK servicemen and women in Afghanistan will enjoy an extra 1 hour and 15 minutes of talk-time to keep in touch with family and friends this Christmas.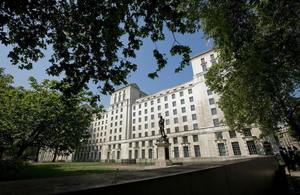 All troops on deployed operations this festive season are being gifted an additional 30 minutes of call time funded by the MOD.
And as an extra Christmas bonus, communications provider Paradigm will gift an extra 45 minutes to every UK serviceman and woman deployed in Afghanistan, meaning that they can now talk to family and friends for even longer over the festive season.
Service personnel on operations already get an allowance of 30 minutes talk-time each week, which they can use to make phone calls home.
Troops on operations are also entitled to internet access as well as WiFi, giving personnel access to their emails from the privacy of their accommodation.
Armed Forces Minister Nick Harvey said:
I have the utmost respect for our Armed Forces, who willingly endure the hardship of being separated from their families and loved ones over the festive period to protect our national security. I am delighted that we can offer those deployed on operations this extra talk-time.
Flight Lieutenant Andy Wilson, who is responsible for managing welfare communications for Defence, Equipment and Support, said:
Christmas can be a difficult time for troops and their families and we are pleased that we have been able to offer this extra talk-time so that our boys and girls on the front line can keep in touch with loved ones when it matters the most.
Managing Director of Paradigm, Keith Norton, said:
Our WelComE service means that serving men and women, wherever they are in the world, can always keep in touch with their families and friends. Paradigm is proud to support British troops over the festive period and we are thankful to Cable and Wireless, who have joined us this year in giving our serving men and women additional talk-time over the Christmas period.
Talk-time is part of WelComE (Welfare Communications Everywhere) project, which is run in partnership with communications company Paradigm under the current WelComE service.
Last year the cost of calls made from Afghanistan to a UK landline were reduced from 11 pence to 6.5 pence per minute.
Published 22 December 2011