Press release
Extra money to keep dangerous goods off Britain's streets
The government has pledged an extra £400,000 to help trading standards officers prevent dangerous goods being sold in the UK.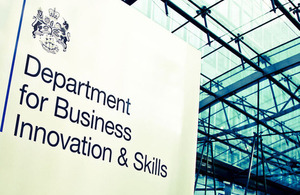 The government has pledged an extra £400,000 to help trading standards officers prevent dangerous goods being sold in the UK, Consumer Affairs Minister Jo Swinson announced today (17 February 2015).
The money will be allocated by National Trading Standards (NTS) and includes £182,000 for its ports and borders project which is improving surveillance at Southampton and Felixstowe ports.
Jo Swinson will make the announcement on a visit to Southampton Port where she will see the work of local trading standards officers first-hand.
Consumer Affairs Minister Jo Swinson said:
Dangerous and fake goods hurt legitimate businesses and put consumers at risk of harm.

This extra money will help protect the public and make it easier to catch rogue traders.

Anyone who has concerns about the safety of a product they have bought should contact the Citizens Advice Consumer Helpline on 03454 04 05 06.
Lord Harris of Haringey, Chair of National Trading Standards Board, said:
We welcome these additional funds to help our teams across the country continue their important work. I am particularly pleased that the Safety at Ports and Borders teams, who face a growing challenge in terms of preventing potentially dangerous products coming into the UK, will now be able to put extra resource into intercepting these items before they can do consumers any harm.
The NTS's work at ports and borders is proving very successful. It is helping trading standards officials to build relationships with key partner agencies such as the UK Border Force and is allowing them to establish a greater presence at ports and borders. This is helping to clamp down on people who are trying to sneak unsafe and fake goods into the country.
Enforcement work at ports has had some notable recent successes including:
9000+ unsafe consumer goods seized, including toys, electrical goods and cosmetics
an additional 2030kg of unsafe cosmetics seized
68,000+ non-compliant consumer goods intercepted
96 samples taken, of which 50 failed tests
70+ importer notification letters sent to inland local authorities relating to unsafe or non-compliant consumer goods
three referrals from Special Branch investigated
30,000+ consumer goods examined that were confirmed compliant
54 external transit shed facilities (ETSFs) visited
22 officers trained on consumer product safety market surveillance.
Notes to editors:
The Ports and Borders project is funded by NTS and is concentrated at the 2 main ports of entry for consumer products into the UK, which are currently Felixstowe and Southampton. Suffolk Trading Standards and Southampton Trading Standards (as part of Trading Standards South East) deal with imports directly and make referrals to inland trading standards services to prevent potentially unsafe or non-compliant goods from entering the UK.
National Trading Standards (NTS) has been operating since 1 April 2012, taking responsibility for prioritising national and cross-local authority boundary enforcement, such as illegal money-lending and rogue and incompetent traders, to provide a more coherent approach to trading standards enforcement. This works well in the NTS's specialist enforcement teams such, which target the worst rogue and misleading trading practices and fraudulent activities that may be beyond the capacity of individual local authorities. The NTS is made up of the heads of Trading Standards Services in England and Wales.
Published 17 February 2015