Press release
Extra funding to prepare for the early years pupil premium
Childcare Minister Sam Gyimah announces new funding for councils to help them prepare for the introduction of the early years pupil premium.
This news article was withdrawn on
This page has been withdrawn because it's out of date. You can read about the early years pupil premium at: https://www.gov.uk/get-extra-early-years-funding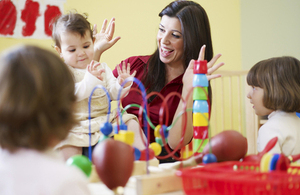 New government funding will be given to councils to help them prepare for the introduction of the early years pupil premium, Childcare Minister Sam Gyimah announced yesterday (12 February 2015).
The early years pupil premium (EYPP), worth £50 million in 2015 to 2016, will be given to early years providers who are delivering the funding entitlement for 3- and 4-year-olds. The funding equates to up to £300 extra per year for each disadvantaged child who meets the eligibility criteria.
The Department for Education is giving councils an additional £1.5 million to help them get ready. It means that each council with eligible children will receive £10,000 to support the introduction of the early years pupil premium - and they can choose how best to use the money.
Councils may choose to upgrade their IT systems to smooth the transition or use the funding to communicate with their local providers.
Childcare Minister Sam Gyimah said:
I'm delighted we are helping the most disadvantaged children access high-quality early education, giving them the best possible start in life. The early years pupil premium gives money to providers so they can make sure eligible children have the best possible outcomes when they start school and beyond. The early years count and it will be life-changing for many of these children. I would encourage any parent who meets the criteria to let a local provider know, so that their child can get the right support at the right time.
Schools Minister David Laws said:
Every child should be able to reach their full potential, no matter what their background. The pupil premium is already helping to build a fairer society with opportunity for everyone. The extension of the pupil premium to early years will give toddlers from the poorest families the support they need to develop and learn at this important early stage. This additional funding will ensure providers have the resources to give all children the best possible start in life.
From April, providers will be able to access the EYPP to help them support their most disadvantaged children. Children will qualify if they are 3 or 4 years old, are receiving government-funded early education, and their parents receive benefits used to access eligibility for free school meals.
Evidence shows that children from less advantaged backgrounds can start school 19 months behind their peers, but that good quality childcare can reduce this gap and have a significant benefit in terms of a child's development.
Children who receive good-quality early years education go on to earn around £27,000 more during their career compared to those who don't, and are also likely to do better at school - the equivalent of 7 GCSE grades at grade B compared to grade C.
This is the latest step in the government's drive to provide high-quality early years education to all children, no matter what their background. Free childcare for 2-year-olds was introduced in 2013, with the number of places available doubling nationally to reach around 40% of all 2-year-olds from September 2014.
In addition, all 3- and 4-year-olds are entitled to free childcare. The government will also this year introduce tax-free childcare, giving almost 2 million families up to £2,000 support per child, and from 2016, for families on the lowest incomes, up to 85% of their childcare costs will be met under Universal Credit.
Parents should contact their local authority to find out if their 2-year-old is entitled to 15 hours of free childcare a week
Notes to editors
In January, 7 areas were given more than £1 million to become early implementers of the EYPP. Authorities in Blackpool, Bristol, Cambridgeshire, North Yorkshire, Northamptonshire, Hackney and Stoke-on-Trent will feedback to the Department for Education about their experiences implementing the EYPP.
All registered early years providers that take children for the funded early education entitlement - including school nurseries and maintained nursery schools; private, voluntary and independent providers; and childminders - will be eligible to claim the EYPP for eligible 3- and 4-year-olds.
Children will be eligible if they are 3 or 4 years old and receiving government-funded early education in any provider, and their parents are in receipt of 1 or more of the following benefits, which are the benefits used to access eligibility for free school meals:
Income Support
income-based Jobseekers Allowance
income-related Employment and Support Allowance
support under part 6 of the Immigration and Asylum Act 1999
the guaranteed element of State Pension Credit
Child Tax Credit (provided they're not also entitled to Working Tax Credit and have an annual gross income of no more than £16,190)
Working Tax Credit run-on - paid for 4 weeks after they stop qualifying for Working Tax Credit
Universal Credit
Or if they have been:
looked after by the local authority for at least 1 day
have been adopted from care
have left care through special guardianship
subject to a child arrangement order setting out with whom the child is to live (formerly known as residence orders)
Last year's research into school readiness, mentioned in the press release, was the Effective Pre-school Primary and Secondary Education (EPPSE) report.
DfE enquiries
Central newsdesk 020 7783 8300
General enquiries 0370 000 2288
Published 13 February 2015