News story
Extra funding for mountain rescue
More support for mountain and cave rescue.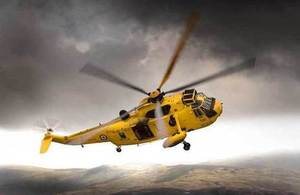 The Department for Transport will provide grants totalling £250,000 to the mountain rescue teams across the UK for the financial year 2015 to 2016, Transport Minister Stephen Hammond announced today (20 March 2014).
This funding will help pay for mountain rescue equipment and training and is an increase on the £200,000 that has been provided each year since 2011.
Transport Minister Stephen Hammond said:
Mountain rescue teams provide a life-saving service to the public, often in extreme and dangerous conditions. The funding provided by the government since 2011 is the first time any government has given direct funding to mountain rescue services.

We recognise their commitment and that is why I am very pleased to be able to announce increased funding for financial year 2015 to 2016.
Chairman of the Mountain Rescue Committee of Scotland Jonathan Hart said:
The 27 voluntary mountain rescue teams in Scotland benefit massively from the support of the UK government. The majority of the funding is directed to delivery of national training courses which contribute to the safety of our voluntary team members who complete about 700 rescues per year.

The funds contribute to a world class service, free to people in need of assistance in the mountains of Scotland.
Financial Director of Mountain Rescue England and Wales Penny Brockman said:
Mountain Rescue England and Wales has benefitted from government grant aid for several years and this has enabled the organisation to provide winter and summer clothing for team members, as well as supporting ongoing training courses in various disciplines.

The organisation welcomes the announcement of increased financial assistance, without which they would find it difficult to support the provision of future equipment and training based projects.
Mountain rescue funding is distributed among the 3 UK mountain rescue organisations, which cover England and Wales, Scotland and Northern Ireland. Between them, these organisations represent 75 mountain rescue teams across the UK.
Funding is used for a wide variety of purposes, for example the Mountain Rescue Committee of Scotland has used previous funding to design and deliver a range of training courses tailor made for their volunteers and the specific challenges they face. Scottish mountain rescue volunteers now have access to the most up-to-date avalanche rescue training anywhere in the world.
Media enquiries
Media enquiries: Newsdesk (Monday to Friday, 8am to 7pm)
020 7944 3021

Urgent media enquiries out of hours
020 7944 4292

The Department for Transport press office only deals with enquiries from the media.

If you're not a member of the media, please use the switchboard line
0300 330 3000
Published 20 March 2014