External communication Gateway functions for Arms Length Bodies
The Department's External Gateway is a small team who ensure that the Department communicates consistent messages and does not impose excessive burdens on NHS, social care organisations and public health audiences.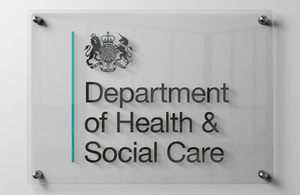 The team do this by reviewing all communications with this audience against a set of standard criteria informed by Departmental policy and approved by Ministers.
This function has been extended to the Department's Arms Length Bodies (ALBs). Please note that not all the criteria will be applicable to all ALBs.
**Arms Length Body gateway requirements
**
There are three different ways an ALB can ensure that it follows gateway principles:
Self-regulation - Those who are in regular contact with the NHS/Social Care but have their own controls in place.
DH external gateway - Those who have regular contact with the NHS/Social Care, issue guidance or collect data, and have agreed to use the DH External Gateway.
Not applicable - Those who have little or no direct contact with the NHS/SC, or who correspond with only a discrete number of organisations.
Importantly where an ALB plans to introduce a new requirement, target, plan or data capture requirement for the NHS/Social Care, this must be discussed with the DH External Gateway team beforehand.
Gateway status of Arms Length Bodies 2011/12
The following ALBs will self regulate; vetting their national communications against standard criteria in accordance with gateway principles:
Appointments Commission
Information Centre for Health & Social Care (IC)
Human Fertilisation & Embryology Authority (HFEA)
National Institute for Health and Clinical Excellence (NICE)
Health Protection Agency (HPA)
NHS Blood and Transplant (NHS BT)
NHS Litigation Authority (NHS LA)
Food Standards
National Patient Safety Agency (NPSA)
Care Quality Commission (CQC)
Monitor
NHS Business Services Authority (NHS BSA)
Medicines & Healthcare Products Regulatory Agency (MHRA)
Those ALBs that have agreed to submit their national communications to the DH for clearance to issue are:
General Social Care Council (GSCC)
Human Tissue Authority (HTA)
National Institute for Innovation & Improvement (NHSi)
National Treatment Agency (NTA)
The ALBs to which gateway principles do not concern and need to actively opt out of applying a gateway process within their business plans are:
Council for Healthcare Regulatory Excellence (CHRE)
Alcohol Education & Research Council (AERC)
**Contact
**
All queries should be sent to the gateway mailbox: mb-gateway@dh.gsi.gov.uk.
A member of the team will then get back to you.
Published 17 October 2011