World news story
Extensive work begins on historic Earnscliffe residence
The British High Commissioner confirms restoration of the Canadian historical site will continue until spring 2013.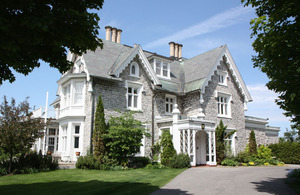 This is an investment in preserving the Victorian heritage values of Earnscliffe, while ensuring the house is fit for purpose for the next generation. Once home to Canada's first Prime Minister Sir John A. Macdonald, Earnscliffe has been the British High Commissioner's official residence for over 80 years.
British High Commissioner to Canada Dr. Andrew Pocock said:
Earnscliffe is an important house for both Canadians and the British Government. It is a property of great architectural and historical interest. As its stewards, it is right that we should restore it to its high Victorian standard, while preparing it for the years ahead. We look forward to it continuing to welcome Canadian visitors, and reaffirming the strong and growing links between Canada and the UK.
The work is being led by Architect David McRobie, who explains the extent of the restoration work in the following video.
Published 30 October 2012