Extension of appointment of Non-Executive Directors of Remploy Ltd
Appointments of Non-Executive Directors of Remploy Limited extended for eighteen months.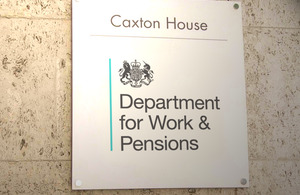 The appointments of Ian Thornley and Joe Mann MBE, Non-Executive Directors of Remploy Limited have been extended for eighteen months to 17th November 2013.
Mr Thornley has held a number of senior management posts and is currently Managing Director of Staffing Partners, a consultancy business specialising in the recruitment and staffing sector.
Mr Mann is currently Deputy General Secretary with Community trade union, with specific responsibility for politics and external affairs. A member of the Executive Committee of the General Federation of Trade Unions, he has extensive experience of trade union and supported business issues.
The appointment of Remploy Non-Executive Directors is the responsibility of the Secretary of State for Work and Pensions. The extension of these appointments was approved by the Minister for Disabled People. 
Notes for Editors
Remploy Ltd is an Executive Non-Departmental Public Body (NDPB), sponsored by the Department for Work and Pensions.
Both Directors were initially appointed for a 3 year period on 18 May 2006 and  were reappointed for a further 3 year term on 18 May 2009. Their appointments will be extended for 18 months from 18 May 2012, ending on 17 November 2013. Each appointment attracts remuneration of £7,688 per annum on the basis of attending six Board meetings a year, plus two to three days a month on  Remploy business.
All appointments are made on merit and political activity plays no part in the   selection process. However, in accordance with original Nolan recommendations, there is a requirement for appointees' political activity (if any) to be made public. Mr Thornley and Mr Mann have declared they do not undertake any political activity.
Mr Thornley and Mr Mann do not hold any other Ministerial appointments.
Published 17 May 2012