Extending the rule of law in Afghanistan
"We need to be realistic about what we want to achieve on rule of law in Afghanistan, but relentless in pursuing those objectives." - Philip Robson, Head Rule of Law Team, Afghanistan Department, Foreign and Commonwealth Office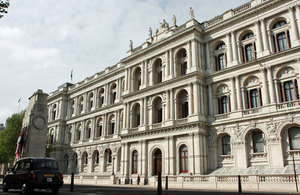 On 7 April, Foreign Office officials took part in a panel discussion at the International Institute for Strategic Studies (IISS) focusing on 'Developing Police and Rule of Law in Afghanistan'. The discussion panel included Philip Robson, Head of the Rule of Law Team in the Foreign Office's Afghanistan Department, Paul Brooker, Head of the EU Police Mission Contingent in Helmand and Major Nick Calder, second in command of the Helmand Police Development and Advisory Training Team.
A sufficiently capable, accountable and self-sustaining Afghan police force is essential to creating and maintaining stability in Afghanistan. A stable Afghanistan is vital for our national security to prevent terrorists returning to use it as a safe haven from which to launch attacks.
Whilst development of the Afghan National Police started from a low base and challenges remain, significant progress has been made following greater investment and coordination of international efforts. But building the capability and capacity of Afghanistan's police force is only part of the picture. A functioning and accessible justice sector is fundamental to creating lasting stability. The UK is working with international partners to support the Government of Afghanistan to build a justice system capable of sustaining transition to the Afghans taking over the lead for security and across the country by the end of 2014.
The discussion at the IISS looked at the UK's approach to justice in Afghanistan, covering not just policing, but the associated importance of developing the whole sector in parallel.
Published 8 April 2011