News story
Export Control Organisation shortlisted for business awards
The Export Control Organisation (ECO) has been named as a finalist in the Better Regulation category of The National Business Awards 2010.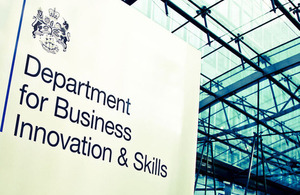 The ECO, part of the Department for Business, Innovation and Skills (BIS), has been shortlisted along with nine other UK organisations in the regulation category.
Commenting on the announcement, Tom Smith, Director of the Export Control Organisation, said:
"We are incredibly honoured to be officially recognised for our ongoing commitment to excel as a customer focused organisation. The nomination is testament to the ongoing hard work and commitment of our staff and our good working relations with our customers".
Being short listed is particularly encouraging for the ECO given that the total number of organisations entering the Awards in 2010 increased by over 40% compared to last year despite the challenging market conditions.
What are the Awards?
The National Business Awards are one of the UK's most prestigious independent business recognition awards. They place a particular emphasis on excellence, innovation and ethical business. The Awards are open to organisations of all sizes and from both the private and public sectors across the UK. The Awards are held in partnership with Orange.
This year's award winners' ceremony is due to take place at The Grosvenor House Hotel in London on 9 November 2010.
What is the Better Regulation Category?
The Better Regulation Award is one of 15 categories including customer focus and employer of the year. It is awarded to the organisation that can demonstrate that it is delivering better outcomes and creating a more effective operating environment for UK businesses through better regulation practices.
Previous category winners include the Waste Protocols Project: Environment Agency and WRAP (2009) and the Medicines and Healthcare Products Regulatory Agency (2008).
The category is sponsored by BIS' Better Regulation Executive. BRE works across government to improve the delivery of regulations by reducing complexity, improving performance and identifying best practice.
Published 23 August 2010