Export bar on 18th century silver cistern
Last chance to keep British Ambassador's wine cistern in the UK.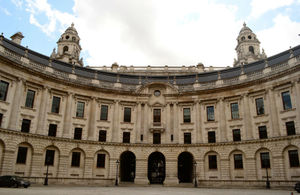 Culture Minister Ed Vaizey has placed a temporary export bar on a massive silver wine cistern commissioned by Thomas Wentworth (1672-1739), ambassador extraordinary to the King of Prussia at Berlin. 
Weighing more than 2,500 ounces and measuring over a metre wide, the great silver wine cistern granted under the Privy Seal to Thomas Wentworth, 3rd Baron Raby (created Earl of Strafford in 1711), bears the maker marks of Philip Rollos senior, one of the finest immigrant goldsmiths working in London in the late 17th and early 18th century. An engraving with the royal arms and cipher of Queen Anne is attributable to John Rollos, his son.
Historic importance
The Minister's ruling follows a recommendation by the Reviewing Committee on the Export of Works of Art and Objects of Cultural Interest, administered by the Museums, Libraries and Archives Council (MLA). The Committee recommended that the export decision be deferred on the grounds that the cistern is of outstanding aesthetic importance; of outstanding significance for the study of the history of the technique of hand crafted silver at a large scale; and the history of the role of British ambassadors abroad in the early 18th century. The Committee awarded a starred rating to the cistern meaning that every possible effort should be made to raise enough money to keep it in the country.
"This is one of the most outstanding pieces of silver that has come before us. We would be the poorer for not having this in a UK institution," said Philippa Glanville, Reviewing Committee member.
The export bar will provide a last chance to raise the money to keep the cistern in the United Kingdom. 
The decision on the export licence application for the cistern will be deferred for a period ending on 7 February 2011 inclusive. This period may be extended until 7 June 2011 inclusive if a serious intention to raise funds with a view to making an offer to purchase the cistern at the recommended price of £2,558,668.75 [including VAT] is expressed.
Expressions of interest
Offers from public bodies for less than the recommended price through the private treaty sale arrangements, where appropriate, may also be considered by the Culture Minister. Anyone interested in making an offer to purchase the cistern should contact the owner's agent through:
         
The Secretary
The Reviewing Committee on the Export of Works of Art and Objects of Cultural Interest
Museums, Libraries and Archives Council
Grosvenor House
14 Bennetts Hill
Birmingham
B2 5RS
Further information
Published 20 May 2012