Press release
Experts to look at future of digital high streets
A new advisory board is to look at how digital technology can help create sustainable high streets.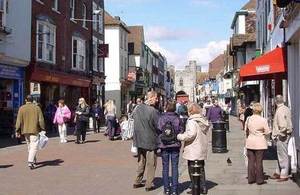 An influential new advisory board met together for the first time on 24 April 2014 to look at how digital technology can help create the sustainable and thriving high streets of the future.
At its opening meeting the board agreed its terms of reference to examine how technology can play a part in helping to ensure high streets are attractive, sustainable and meet consumer demand. The group will work with the government and others with an interest in revitalising UK high streets and report to the Future High Streets Forum.
The group set a range of aims and objectives including developing a strong approach to combining technology with the traditional high street to ensure high streets remain commercially viable and locally relevant; and bringing together a range of examples of successful technology initiatives to create a best practice guide that can be championed by the Future High Streets Forum.
The board also highlighted a number of already successful digital initiatives as examples that could be replicated across the country. This included the "Open High Street" in Hereford, that enabled small retailers and farm producers to compete online and the new Digital High Street Skills programme, a partnership between the National Skills Academy for Retail and the Association of Town and City Management that provides basic digital skills to small and medium enterprises which aims to train 3,000 small and medium enterprise owners and staff by the end of 2014.
Co-chair of the Future High Streets Forum and High Streets Minister Brandon Lewis said:
The rise of online retail means Britain's shoppers are changing their habits and high streets need to adapt to continue to prosper.

Apps and other digital technologies can bring communities closer to the range of services good town centres offer or reward people for coming into town.

I have asked John Walden to set up this new advisory board to look at how technology can help connect every high street to the very best ideas.
John Walden, Chief Executive of Home Retail Group and Chairman of the Digital High Streets Advisory Board said:
There are a number of digital-related high street initiatives, both in the public sector and private sector, but there is often little, if any, linkage between them. This board will take information from successful pilots and examples of good practice, and seek to apply it to a broader national strategy.

It is absolutely imperative a national digital strategy for high streets is built around flexibility - so that it can adapt to changing consumer demand, and play a key role in the increasing desire of residents and visitors to access leisure, social and cultural experiences when they visit town and city centres.
Further information
The Future High Streets Forum brings together leading businesses, academics and local leaders to look at the challenges facing our town centres and to work with councils to build on what the government has started. See the Future High Streets Forum: terms of reference (PDF, 22.1KB, 2 pages).
Secretariat
The Association of Town and City Management is providing the secretariat for the Digital High Street Advisory Board. For further information contact Shanaaz Carroll, Deputy Chief Executive of ATCM at: shanaaz.carroll@atcm.org.
Membership of the Digital High Streets Advisory Board
Chair John Walden, Chief Executive, Home Retail Group
John joined Argos as Managing Director in February 2012 and was appointed Chief Executive of Home Retail Group on 14 March 2014. He started his retail career in the 1990s as Chief Operating Officer of Peapod, a pioneer in online supermarket retailing. He joined Best Buy, the giant US electricals retailer, in 1999 as President of its internet and direct channels division, and over an 8 year career also served as Executive Vice President, Human Capital and Leadership, and ultimately as Executive Vice President of its Customer Business Group. John later moved to Sears where, as Chief Customer Officer and Executive Vice President, he led marketing, merchandising and the internet, catalogue and home services divisions. More recently, he was President and Chief Executive Officer of Inversion Inc, a retail consultancy, and Chief Executive of Activeion Cleaning Solutions.
Private business
Sainsbury's
Marks and Spencer
John Lewis
Argos
Lloyds Banking Group
Post Office
BT
Telefonica/O2
Google
IBM
Hammersons
Westfield
Public sector
Department for Business Innovation and Skills (BIS)
Department for Communities and Local Government (DCLG)
Dartford Borough Council
Technology Strategy Board
Trade bodies
Association of Licensed Multiple Retailers
Association of Town and City Management (ATCM)
British Retail Consortium (BRC)
British Independent Retailers Association (BIRA)
British Council of Shopping Centres (BCSC)
GSMA
IMRG (UK's Online Retail Association)
Office address and general enquiries
2 Marsham Street
London
SW1P 4DF
Contact form http://forms.communiti...
General enquiries: please use this number if you are a member of the public 030 3444 0000
Published 25 April 2014