News story
Experienced nuclear leader for new Magnox role
David Peattie, CEO of the Nuclear Decommissioning Authority, has today announced that Lawrie Haynes has been appointed Chair Designate of the NDA subsidiary, Magnox Ltd.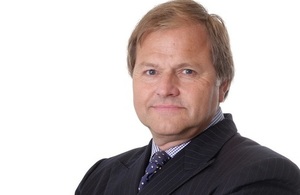 The new subsidiary will come into being on 1 September 2019 when the current Parent Body Organisation, the Cavendish Fluor Partnership, hands over to the NDA.
Lawrie has extensive experience in senior executive and non-executive roles across a range of major private sector companies and high profile public sector organisations, with a strong track record in the nuclear sector. These include his roles as President of Rolls-Royce Land and Sea Division, Chief Executive of British Nuclear Group and Non-Executive Director at Network Rail.
David Peattie said:
I am delighted to welcome Lawrie as Chair Designate of the new Magnox Ltd Board. His contribution will be invaluable in establishing the new leadership team as it takes over from the outgoing team.

His unique blend of experience in both the private and public sector, and particularly his extensive knowledge of the nuclear industry, will greatly enhance the Magnox leadership team as they get to grips with the challenges of dealing with the nuclear legacy. The focus of the new company's leadership, with Lawrie at its head, will be to ensure safe decommissioning progress while delivering value for the UK taxpayer.
Lawrie Haynes said:
It is a privilege to be given this opportunity to lead and help shape the new organisation as it becomes a subsidiary of the NDA later next year. I am really looking forward to working with the Board and new executive team to support the workforce in carrying out this important clean-up programme on behalf of the nation.
Published 3 December 2018