News story
Expansion of US Global Entry Service to British citizens
Global Entry, which provides expedited clearance for members at the US border, will be available to British citizens from 3 December.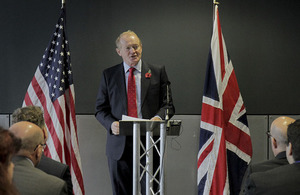 Sir Charles Montgomery, Director General of Border Force joined US Ambassador Matthew Barzun and US Customs and Border Protection Commissioner R Gil Kerlikowske at the official British launch of the US Global Entry Service yesterday (Tuesday, 3 November).
Speaking at the World Travel Market, at London's Excel Centre, Sir Charles announced that British citizens will be now able to register for the service from 3 December 2015.
Quicker entry at US border
Global Entry enables passengers, who successfully undergo thorough security checks, to gain quicker entry at the US border at selected airports by removing the need to see a Customs and Border Protection (CBP) officer or complete a Paper Customs Declaration form.
Passengers simply pay a fee of £42 to the Home Office and then $100 to CBP. This covers membership for five years. Members can then gain access at US airports via a specially designated Global Entry automated kiosks.
Sir Charles Montgomery said:
The expansion of the Global Entry Service to British citizens is a testament to the close collaboration between our two countries. We have a mutual interest in operating safe and secure border controls, where legitimate, low-risk travellers are offered excellent levels of customer service.

Global Entry is a fantastic service that allows pre-checked British passengers quickly and securely to pass through US border controls. I am very pleased that Border Force has played such an important role in enabling the service to be opened up to UK nationals.

This service mirrors Border Force's existing Registered Traveller programme, which has transformed the experience of thousands of passengers from the US and other countries at the UK Border. These passengers are able to gain expedited clearance to the UK, including through the use of e-Passport gates at a number of airports across the country.
How to apply
To join the Global Entry Service, applicants must submit a registration request through the "Register to Apply" service and pay a £42 processing fee to undergo background checks by Border Force staff. If successful, the applicant will receive a unique UK access code to complete their application through the US CBP's Global Online Enrollment System. They will pay a non-refundable $100 application fee, and then undergo further checks by CBP. If approved, the applicant will then arrange an interview with a CBP officer at one of the Global Entry Enrollment Centers in the US.
In the UK, Registered Traveller allows regular travellers faster entry into the UK. For an annual fee applicants undergo security checks in advance of travel meaning that, on arrival to the UK, they are able to use the EEA queues and e-Passport Gates upon their arrival, bypassing queues for non-EEA passengers. There are now over 30,000 approved Registered Traveller members, 60 per cent of whom are from the US. For more information on Registered Traveller go to Gov.uk
Published 4 November 2015