News story
Event - Leeds Cross Government SME Roadshow
24 November, 9.30am. Leeds.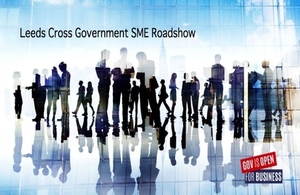 The Leeds Cross Government SME Roadshow is a great opportunity for SMEs in Yorkshire and beyond to hear directly from Central Government (Department for Work and Pensions, Ministry of Justice, Crown Commercial Service), NHS (Department of Health, NHS England, NHS Digital) and local government (Leeds City Council) about the opportunities to sell to the public sector.
You'll hear about what organisations based in Yorkshire are looking to buy, what they expect from their suppliers and about government's commitment to see more of its business won by SMEs.
You'll also hear from an SME who has successfully sold to government and who is now advising them how to get more of their business done with SMEs.
It is a chance to meet the people who make purchasing decisions, find out how you can find opportunities and what you can expect when you bid for a contract and after you've won it, and also find out about future opportunities.
Confirmed agenda:
09:30 – Registration
10:00 – Welcome (Emma Jones - SME Crown Rep / Paul Ward)
10:10 – Selling to Department for Work and Pensions (DWP Presenters)
10:40 – G cloud and Crown Commercial Service frameworks (Liz Freeman - CCS)
11:30 – Coffee Break
12:00 – Selling to Health (Joint Department for Health, NHS Digital, NHS England presenters)
12:30 – SME Panel - how Elizabeth Vega sold to government and meeting the buyer (Elizabeth Vega – Informed Solutions)
13:00 – Lunch (Break out session "buns and busters" myth-busting session with DWP)
14:00 – Selling to Ministry of Justice (MoJ Presenters)
14:30 – Selling to Leeds City Council Digital (LCC Presenters)
15:00 – Government policy on procuring from SMEs including Contracts Finder and Payment (Stephen Tokley - CCS)
15:30 – Close
To register your attendance, please visit here.
Published 31 October 2017
Last updated 16 November 2017
+ show all updates
new agenda added
First published.