World news story
European Heritage Days marked in Kosovo
The British Embassy promotes "Hajde!" Heritage project 2014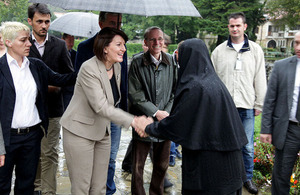 On Saturday 13 September 2014, the British Ambassador to Kosovo, Ian Cliff, the President of Kosovo, Atifete Jahjaga, EU Special Representative to Kosovo, Samuel Zbogar and the Head of Council of Europe Office in Pristina, Tim Cartwright went by train from Pristina to Peja/Pec to visit number of cultural monuments in the Peja/Pec region.
This visit was part of the European Heritage Days in Kosovo project, which aims to enable all communities to explore the cultural sites in Kosovo. The same visit is open to the public and will be running throughout September.
Ambassador Cliff said:
I enjoyed visiting Peja/Pec with the President, the EUSR and numerous Kosovo citizens. It was a fantastic opportunity to visit some of the beautiful cultural monuments of Kosovo.
The visit programme includes a guided tour of the main heritage sites of the municipalities of Peja/Pec including a visit to the Patriarchate, Bajrakli Mosque, Decane Monastery and Kullas in Junik. The train will run on Saturdays (13th, 20th and 27th) and Sundays (14th, 21st and 28th) throughout September 2014, departing from Pristina Railway Station at 09.00 and returning from Peja/Pec Railway Station at 18.30.
For further information please visit the link
Published 17 September 2014