World news story
European Heritage Day: Visit the British Ambassador's Residence in Paris
The Residence will open to the public on Saturday 20 September 2014.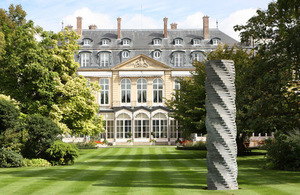 The British Ambassador's Residence in Paris, also known as the Hotel de Charost, will be open to the public for European Heritage Day on Saturday 20 September 2014, 10am to 4:30pm. Visitors will have access to the ground floor rooms and the garden.
200 years and still going strong
The house was built between 1722-25 for the Duc de Charost by architect Antoine Mazin. In 1803, Pauline Borghèse, Napoleon Bonaparte's sister, bought the house which became the centre of her small but fully-fledged court.
In 1814 the Duke of Wellington, arriving in Paris as British Ambassador, bought the house, the furniture and the stables (about 100 yds away, the site of the stables is now occupied by the Consulate). The house became the first permanent Embassy building owned by the British Government.
The Bicentenary of the purchase of the house has been celebrated all year by a series of conferences and events. Learn more here.
Your visit
Saturday 20 September, from 10am to 4:30pm
Address: 39 rue du Faubourg St-Honoré, 75008 Paris.
Metro stations: Concorde (L1, L8, L12) or Madeleine (L8, L12, L14).
The parts of the house open to the public will be fully accessible to wheelchairs.
Check our "Access and opening times" page for further information.
Visit our Flickr gallery for pictures of the Residence.
Published 16 September 2014