World news story
EU Member States' embassies mark Climate Change Day in Tashkent
On 9 September 2014 British Ambassador Mr George Edgar hosted an event at his Residence to mark the Climate Change Day of Action.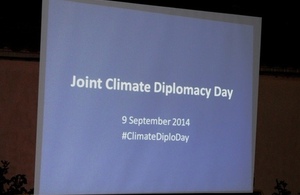 On 9 September 2014 British Ambassador Mr George Edgar hosted an event at his Residence along with the EU Delegation, the French and German Embassies in Tashkent to mark the Climate Change Day of Action.
The event was organised with the aim of highlighting the urgent need for more effective and ambitious global action to combat climate change, and the importance of agreement within the next two years on a global legally binding commitment to reduce greenhouse gas emissions. More than fifty guests including Uzbek officials, governmental and non-governmental environmental experts, diplomats, representatives of international organizations, media and others with an interest in climate change issues, attended the event.
In his welcome speech Ambassador Edgar said that despite all we know about the dangers of climate change, global greenhouse gas emissions continue to increase and time is rapidly running out if we are to be able to keep global temperature change within reasonably safe levels. This is a concern for countries in every part of the world and at every stage of economic development. It is essential that the international climate meetings in Lima this year and Paris next year produce an agreement that will provide for much stronger action to reduce fossil fuel use and other sources of greenhouse gases. Mrs Myryam Galland, Charge d'Affairs at the French Embassy added that the priority of the Paris conference is to shift the focus of global efforts away from an approach of burden-sharing onto one of solution-sharing. The challenge of climate change will be met only if we see it as an opportunity: to innovate, to create jobs and growth, to improve energy security and competitiveness, and create healthier environment and fairer societies. This requires States strong commitment, International community's active participation but also NGOs and civil society's innovative initiatives or well-tried achievements for the preparation of the conference in Paris in December 2015.
Mr Torsten Goehler, Charge d'Affairs at the German Embassy informed the audience about the German view to climate change and the importance the German government and public gives this challenge as a main topic of our time. He pointed the Aral Sea catastrophe as a warning what could happen by ignoring the problem and expressed his confidence that also the countries of Central Asia will find ways to share the worldwide activities to stop climate change.
Mr Ondrej Simek, Head of Political Section at the EU Delegation said that preventing climate change is a strategic priority for the European Union. EU is acting to reduce its greenhouse emissions substantially and encourages other nations to do likewise. As with other strategic and development issues, EU stands ready to supports its partners in fighting and mitigating climate change.
People who submitted photos, drawings and essays for a competition organised by the EU Delegation and the British, French and German Embassies on social media titled "What does climate change mean to me?" were also invited to attend the event. The winning entries were chosen from a number of contributions illustrating environmental issues.
The guests also watched a film called The Age of Stupid, about a man living alone in the devastated world of 2055, looking back at old footage from our time and asking:
Why didn't we stop climate change when we had the chance?
The screening was followed by a discussion on how individuals, organizations and states can combine their efforts to respond to global environmental challenges.
Published 10 September 2014