EU Foreign Ministers discuss suspension of sanctions on Burma
EU Foreign Ministers met in Luxembourg today. Top of the agenda was the suspension of sanctions against Burma.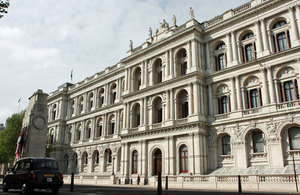 Prime Minister David Cameron welcomed the decision:
"I welcome today's decision by our EU partners to support the UK's call to suspend sanctions against Burma. As I saw for myself, President Thein Sein has taken important steps towards reform in Burma, and it is right for the world to respond to them. But those changes are not yet irreversible, which is why it is right to suspend rather than lift sanctions for good. As Aung San Suu Kyi herself has said, suspending sanctions will go some way in strengthening the hand of the reformers in Burma."
Also on the agenda is the situation in Syria. Before the meeting the Foreign Secretary said that it is important to step up the pressure on the Syrian regime:
"We should continue to intensify the pressure on the Assad regime. they are not in full compliance of the ceasefire requirements of the Annan plan."
"It's hard to be optimistic about everything that has happened in the last 13 months in Syria. The Syrian regime continues to fail to implement key aspects of the ceasefire and clearly there are breaches of that ceasefire going on. It is very important that we continue to support the annan plan.
We succeeded in negotiating and passing at the weekend a new UN security council resolution authorizing the deployment of a larger monitoring force.
So that is all progress, that I hope will help to stop the scale of slaughter in recent months but it does not mean the problem is resolved. This is a regime that is continuing in some cases to kill, to abuse, that only implemented a ceasefire at the last possible moment and still hasn't implemented key requirements of the ceasefire, so it's still too early for optimism."
Published 23 April 2012