Press release
EU farming support package allocations announced
UK dairy farmers will receive one-off support payments to help with their cash-flow problems.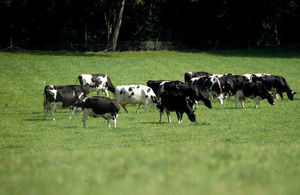 Hard-pressed UK dairy farmers will receive a one-off support payment linked to milk production to help with their cash-flow problems caused by volatile prices.
Ministers in Scotland, Northern Ireland and Wales had flexibility about how to allocate their share of the UK's £26.2 million overall direct aid package but all have opted to pay in line with England.
The united approach across the UK will make it easier for the Rural Payments Agency (RPA) to adopt a standard method of payment and ensure aid reaches farmers' bank accounts in December.
The UK's overall direct support package is the third largest of all the member states.
In England, dairy farmers will share £15.5m in recognition of the prolonged period of low prices in this particular farming sector. Northern Ireland was given a boosted allocation – worth £5.1m – in recognition that Northern Irish farmers have been suffering from some of the lowest prices across Europe.
UK Farming Minister George Eustice said:
We recognise that many dairy farmers in the UK are suffering financially at the moment and the support will offer some relief.

Dairy farmers are a vital part of our £100billion food and farming industry and I'm pleased to confirm that ministers across the Union have agreed to distribute the aid in the simplest way – linked to milk production - to ensure the RPA can get this money into farmers' bank accounts promptly.
In England and Wales, the one-off payment for an average-sized dairy farm would come out at around £1,800 per farmer.
In Northern Ireland farmers will be allocated, on average, just short of £2,000. In Scotland, because they have larger dairy units on average, it will be just over £2,500.
Meanwhile, work continues on a host of measures to improve the long-term stability of the dairy industry. The UK farming minister is attending the world's largest food and drink fair, Anuga, in Cologne, this week to promote British food and farming exports – worth over a billion pounds over the past two years.
The Environment Secretary will also lead a trade delegation to China next month – including eight British dairy businesses - to promote quality British products to this growing market. The visit is part of Defra's commitment to expand export market opportunities for UK farmers.
Environment Secretary Elizabeth Truss said:
While it's right that the immediate focus is on support for farmers' cash-flow it is equally important that we help build for the long term. Developing a futures market will help farmers manage volatility and we are pleased that the Commission is taking this forward. We are also working with the Commission to look at ways of bringing greater fairness and transparency to the supply chain, using the success of our Groceries Code Adjudicator as a model that could benefit the whole of Europe.
Among a host of measures to improve the long-term stability of the dairy industry and help farming businesses grow and thrive are:
Working with the food industry – including supermarkets, retailers, manufacturers and caterers – on more consistent labelling and branding of British dairy products, improving transparency across the supply chain and allocating more space on shop shelves. This will make it easier for consumers and food businesses to know when they are buying British dairy products.
An urgent industry-led review of best practice in the dairy supply chain facilitated by the Agriculture and Horticulture Development Board.
A commitment to publish details of central government catering contracts, including their renewal dates, to bring transparency to the market and allow dairy farmers the opportunity to prepare and compete for contracts.
Notes to editors
The full EU aid allocations are:
England £15.5 million
Northern Ireland £5.1 million
Wales £3.2 million
Scotland £2.3 million
The Rural Payments Agency will administer these payments in December.
For more information please contact Defra's press office on 020 7238 6223 or out-of-hours on 0345 051 8486.
Published 24 September 2015
Last updated 12 October 2015
+ show all updates
Updated to confirm that the EU aid package will be allocated in Scotland, Northern Ireland and Wales via a flat rate linked to milk production as in England.
First published.