News story
Establishing the Healthcare Safety Investigation Branch
HSIB Expert Advisory Group makes recommendations for improving safety investigations across healthcare.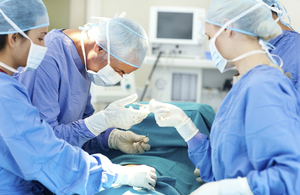 The independent Expert Advisory Group (EAG) report, advising the Secretary of State for Health on the creation of the Healthcare Safety Investigation Branch (HSIB), makes the case that there is room for improvement for investigation capability throughout the NHS.
The EAG's advice is that HSIB should be an exemplar for the whole health system on how to undertake learning-oriented safety investigations, helping those in the system improve rather than taking on the majority of investigations itself.
The report makes 13 recommendations: 10 aimed at the Healthcare Safety Investigation Branch and 3 for the Department of Health and the wider healthcare system.
The recommendations to HSIB are:
HSIB must be, and be perceived to be, independent and have this written in its legislation
the objective of safety investigations must be to understand the causes of harm in order to improve systems and prevent future harm, not to apportion blame or liability
patients, families and staff must be active participants in the process of investigation and must be engaged with and supported compassionately and respectfully
investigations must be led by experts
HSIB must publish reports that explain the causes of safety issues and incidents, and issue recommendations for improving patient safety across the system
HSIB must promote the creation of a just safety culture
HSIB must provide families and patients with all relevant information relating to their care, reflecting the responsibilities of healthcare providers
all information collected solely for the purposes of safety investigation must be protected, making sure safety information continues to be provided and has the confidence of healthcare professionals
safety information must be provided to investigators with the understanding that it will not be used inappropriately
hiding or interfering with evidence is unacceptable, and should be made an offence
The recommendations to the wider system include creating a 'just culture' taskforce, improving the wider infrastructure of investigation and resolving outstanding and unresolved cases.
The Department of Health welcomes the report and will give further consideration to the 3 recommendations made to the wider system and respond in due course. The Department has already formed the legal basis for HSIB in the NHS Trust Development Authority Directions 2016.
The recommendations for the HSIB will be considered when the Chief Investigator is in post, expected to be summer 2016. In the meantime Dr Mike Durkin will continue to prepare the new HSIB.
The EAG's report represents the views of its members who were chosen for their relevant experience and expertise in the fields of investigations, patient safety, system improvement, organisational learning and healthcare delivery. It has also been informed by the views of a broader group of contributors including service users and staff, and others with a long standing association with patient safety issues. The report demonstrates the commitment and contribution of all EAG members, patients, families and staff members who contributed to it.
Published 12 May 2016