Press release
Essex man jailed for playing key role in illegal pharmacy business
57 year old Sundeep Amin was today sentenced to imprisonment after illegally selling erectile dysfunction drugs.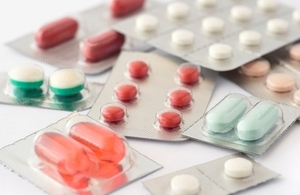 An Essex man was today sentenced to 16 months' imprisonment for the illegal sale of erectile dysfunction drugs following an investigation by MHRA.
Sundeep Amin, aged 57 years old, of Abercorn Gardens, Romford, pleaded guilty to 21 counts of importing, possessing and supplying unlicensed medicines.
Nearly £900,000 of illegal medicines were seized by MHRA officers, imported from India and destined for customers across the UK and Europe. He also admitted possession of a large quantity of the controlled drug, Phenazepam and to laundering the proceeds of his crimes.
Alastair Jeffrey, Head of Enforcement at MHRA, said:
Mr Amin had no medical qualifications and was dealing in unlicensed medicines, which is a lethal combination and a serious risk to public health. His operation ran for several years and it is further proof that if you buy medication from an illicit source, you are handing over money to a criminal who has no regard for your well-being.
During MHRA's investigation, it became clear that Mr Amin had several companies registered in his name and rented a number of storage facilities across Essex. Several large quantities of erectile dysfunction drugs on route to these addresses were seized on arrival in the UK, including one haul worth £100,000 at Heathrow Airport.
Alastair Jeffrey added:
Our advice is simple. If you are ill and need treatment, a visit to your GP or pharmacist is the best course of action. Medicines should always be obtained from a legitimate high street or online pharmacy.
Background
The Medicines and Healthcare products Regulatory Agency (MHRA) is responsible for regulating all medicines and medical devices in the UK by ensuring they work and are acceptably safe. All our work is underpinned by robust and fact-based judgements to ensure that the benefits justify any risks. MHRA is a centre of the Medicines and Healthcare products Regulatory Agency which also includes NIBSC and CPRD. The Medicines and Healthcare products Regulatory Agency is an executive agency of the Department of Health.
Media enquiries
News centre
MHRA
10 South Colonnade
London
E14 4PU
Email newscentre@mhra.gov.uk
During office hours: 020 3080 7651 (08:30 - 17:00)
Out of office hours: 07770 446 189 (17:00 - 08:30)
Office hours are Monday to Friday, 8:30am to 5pm. For real-time updates including the latest press releases and news statements, see our Twitter channel at https://www.twitter.com/mhrapress
Published 14 August 2015