Press release
Erno Goldfinger's Metro Central Heights building in London is listed Grade II by Heritage Minister Ed Vaizey
Internationally renowned architect's post-war office development recognised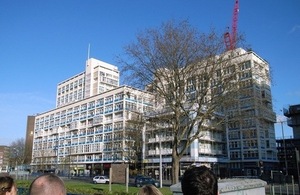 Metro Central Heights, the office development designed by the internationally renowned designer and architect Erno Goldfinger, and built between 1959 and 1967 in London's Elephant and Castle, has been listed Grade II by Heritage Minister Ed Vaizey.
The building was originally called Alexander Fleming House and housed the Department of Health and Social Security until 1989, after which it remained empty until converted to residential use in 2002. The decision to list follows expert advice from English Heritage.
Ed Vaizey said:
Goldfinger considered this to be his most significant work. Acclaimed when it was first built, it subsequently divided opinion but has now – 25 years after first being put forward for listing – clearly passed the test of time. I am pleased now to be able to give it the recognition it deserves.
Simon Thurley, Chief Executive of English Heritage said:
Built by distinguished architect Ernö Goldfinger, Metro Central Heights is an excellent example of high calibre post-war architecture. An accomplished building, it has proved highly influential for designs which followed. We are pleased that the Heritage Minister agrees with our advice and has listed it at Grade II.
Notes to Editors
Copies of the Inspector's report can be obtained from English Heritage press office on 020 7973 3250.

When a building is "listed" it is recognised as being of special architectural or historic interest. Listed status protects a building against unauthorised demolition, alteration or extension. It ensures that its special interest is taken into account when proposals are put forward which affect its character or appearance.
Press Enquiries: 020 7211 6276 Public Enquiries: 020 7211 6200 Out of hours telephone pager no: 07699 751153
Metro Central Heights image by stevecadman on flickr. Some rights reserved.
Published 9 July 2013