News story
Eric Pickles visits 'Hidden Homes' in Wandsworth
Communities Secretary Eric Pickles marks the 10th anniversary of the Hidden Homes initiative.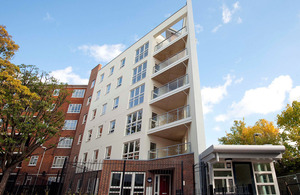 Eric Pickles visited the Rollo housing estate in the London Borough of Wandsworth today (22 November 2012) to see how £3.6 million of government funding is helping the council provide more affordable homes for local families.
Mr Pickles unveiled the final 38 affordable new homes of the Hidden Homes initiative that celebrates its 10th anniversary this year.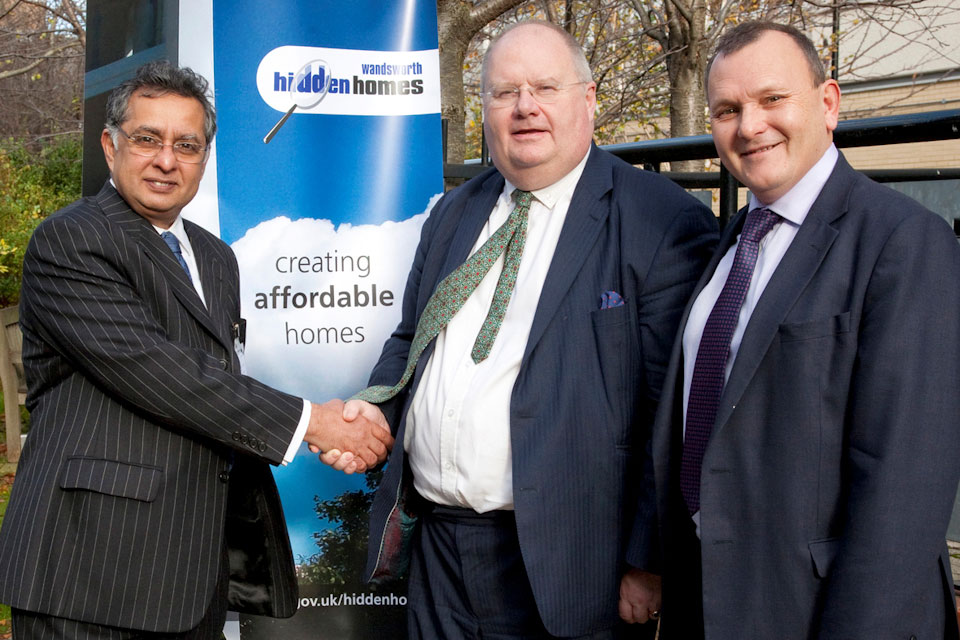 Offering excellent value-for-money, the cutting-edge programme converts vacant and disused spaces on housing estates - from boiler rooms to storage areas - into modern and attractive affordable homes.
The scheme has delivered 238 homes in Wandsworth over the past decade. These have been allocated to local families and first time buyers, often on a shared ownership basis.
The Hidden Homes approach has provided more affordable homes, and at the same time prevented these redundant spaces from becoming eyesores or potential havens for anti-social behaviour.
Mr Pickles praised the borough for boosting housing delivery that, in the 12 month period to March 2012, was the highest in 10 years.
He said the Wandsworth scheme was a lesson to other councils for delivering more affordable housing, despite the tough economic circumstances.
Projects like Hidden Homes also provide valuable economic regeneration, creating jobs and boosting the local economy.
Communities Secretary Eric Pickles said:
"This government is committed to delivering more affordable homes that families need. Our £19.5 billion investment is delivering 170,000 affordable homes, and our FirstBuy and NewBuy schemes are helping families take the next step on the property ladder with just a fraction of the normal deposit.
"But we also want more councils to do more, and adopt innovative solutions like those being pioneered in Wandsworth. Using government and council funding, these Hidden Homes are making a fantastic contribution to the affordable housing landscape and giving families and first time buyers the chance to have their own home."
Cabinet Member for Housing at Wandsworth Council, Councillor Paul Ellis said:
"The Hidden Homes scheme has played a really major role in increasing the supply of affordable housing over the past decade.
"As well as proving incredibly cost effective, it has also helped create jobs in the construction sector and been the key to regenerating redundant land on housing estates.
"I am delighted that the secretary of state will today unveil its biggest single scheme, and that as a result, 3 dozen families in housing need will be able to move into brand new high quality homes"
Funding for Hidden Homes builds on the options available for aspiring homeowners who want to get onto and up the housing ladder. This includes the NewBuy Guarantee and the reinvigorated Right to Buy, which will give thousands of council tenants the opportunity to buy their home.
Photos of the visit are available from the DCLG Flickr channel.
Published 22 November 2012
Last updated 22 November 2012
+ show all updates
This news article was converted to a news story