Press release
Eric Pickles shows support for Gibraltar as flag flies high in Whitehall
The flag of the British overseas territory of Gibraltar is flying over government offices to mark their national day.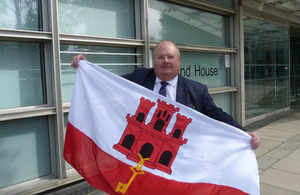 Communities Secretary Eric Pickles has joined his Whitehall colleagues today (10 September 2013) and flown the flag of Gibraltar outside the offices of the Department for Communities and Local Government in Westminster, London, in recognition and respect of the national day of Gibraltar, a British overseas territory, and celebrating the continuing close ties of friendship and community.
Other government departments, including the Foreign and Commonwealth Office, are showing their support for Gibraltarians by also flying the flag from their own offices.
The Department for Communities and Local Government has previously recognised and celebrated other overseas territories, including the Falkland Islands to mark its liberation from Argentinean invasion.
The official Gibraltar National Day include street parties with Gibraltarian food, school choirs singing songs with a Gibraltarian theme and the reading of the Gibraltar National Day Declaration from the City Hall's balcony. This is followed by the traditional release from atop the Parliament building of 30,000 red and white balloons, representing Gibraltar's population and the singing of the national anthem.
Eric Pickles said:
As the Gibraltarian and United Kingdom's Union flags flutter in the breeze side by side, they send a message that Britain's commitment to Gibraltar is solid.

Flying flags unites communities. Recognising the national day of Gibraltar here in Whitehall sends a clear message of support that we stand together under our shared sovereign.
The Chief Minister of Gibraltar, Fabian Picardo, said:
It fills all Gibraltarians with joy and huge pride to see our flag fly in London today at DCLG and FCO. This is a visible sign of the partnership between the United Kingdom and Gibraltar; a partnership that will endure for centuries to come.
The Gibraltar Flag is being flown as part of DCLG's continuing programme of flying local, national and international flags.
Published 10 September 2013