Press release
Eric Pickles shelves town hall plans for new taxes on families' weekly shop
The government will not support additional business rates on supermarkets and large shops.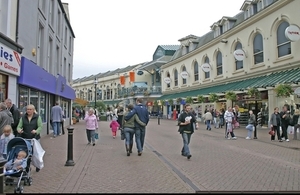 Local Government Secretary, Eric Pickles, stood up for hard-working people today (25 October 2014) as he stopped plans for new taxes on families' weekly shop. A number of town halls have been initiating legal moves to impose additional business rates on supermarkets and large shops, using the Sustainable Communities Act.
Today, the Secretary of State announced that the government would not be supporting the calls for higher taxes and would block the tax increases. In a defence of the case for lower taxation, he noted:
increasing taxes on shops would ramp up food prices and push up the cost of living
supermarkets help provide convenient, accessible and competitively priced food
further taxes on supermarkets would hit jobs and investment in new and existing stores, as has been the case in Scotland, where such a supermarket tax has been tried, and is now being abandoned by the Scottish government
bigger shops already pay higher business rates, and this government has cut taxes on small shops; councils already have powers to introduce further local tax discounts
supermarkets are facing their own problems from outdated business models, and all shops needs to adapt in the face of competition from the internet and changing lifestyles.
local authorities have a wide range of powers to support vibrant local high streets, from supporting street markets to shopper-friendly parking policies
higher taxes are a lazy way of thinking: some councils see this as the solution to every policy challenge
Mr Pickles said:
This government supports free enterprise and lower taxes. We don't agree with the lazy thinking from the town halls whose answer to everything is to find a new way of hiking up taxes.

Instead, the government has cut taxes on small shops – which is a better way of giving a hand up to local shops than just beating up their rivals and forcing up the cost of shopping.

Rather than waging class war on business, councils would be better using their existing powers to support local high streets, such as calling off municipal parking bullies and backing local street markets.
Further information
See the letter from the Secretary of State to the Derby City Council (the lead council making the bid under the Sustainable Communities Act).
Office address and general enquiries
2 Marsham Street
London
SW1P 4DF
Contact form http://forms.communiti...
General enquiries: please use this number if you are a member of the public 030 3444 0000
Published 25 October 2014