Eric Pickles sees Gurkhas settling into Rushmoor
Communities Secretary Eric Pickles sees first-hand the positive effect of funding in helping Gurkhas and their families settle in the UK.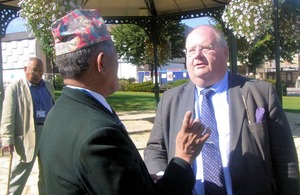 On a visit to Aldershot today (13 September 2012), Mr Pickles met council officials, Citizens Advice Bureau staff and local Nepali community leaders and discovered how Rushmoor Borough Council are spending £500,000 that he had given to help with integration of former soldiers and their families.
The government funding has helped ease the exceptional pressures on Rushmoor, which has seen a large number of Gurkha ex-servicemen and their dependents arrive in the towns of Aldershot and Farnborough over a relatively short period of time. The recent arrivals include a high proportion of children and elderly Nepalese nationals which has placed a recognised strain on local social, health and education services.
Eric Pickles said:
"These brave British army veterans have given our country loyal service over many years. It is their bravery that has helped protect our way of life and our traditions and it is right that their dedication is honoured.
"Many of these ex-servicemen and their families have been proud to call this country their home and we too are proud of the strong ties that have been established between the ex-Gurkhas, their families and their wider communities. We are determined that if they chose to settle in the UK to see that they and their families are treated with dignity and respect and are made to feel welcome."
Mr Pickles also used the visit to announce the final instalment of the funding, a £150,000 payment towards English language training which is seen as a vital element in helping the Nepali people settle and contribute to their local community.
Further information
The Department for Communities and Local Government and the Deputy Prime Minister announced a £1.5million fund for the Gurkha community in November 2011.
More images from the visit are available from the DCLG Flickr channel
Published 13 September 2012