Eric Pickles lays the foundations for 1,600 new homes
Eric Pickles visited Southampton and laid the foundations for 1,600 new and affordable homes as part of a major redevelopment of the Quays.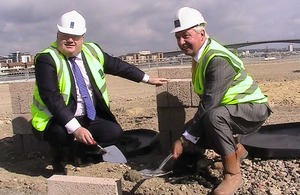 The £500 million Centenary Quay development is being built on the site of the former Vosper Thornycroft shipyard in Woolston. Alongside 1,600 new homes, of which more than 400 will be available to buy at an affordable price, the new site will also include a library, supermarket and a hotel, as well as bars and restaurants.
The project is expected to create more than 1,000 new jobs for the area.
Speaking at the site, Mr Pickles set out a comprehensive range of measures the government has taken to get Britain building again.
The Secretary of State for Communities and Local Government said:
"I am delighted to have laid the foundations for this exciting and extensive development on the Centenary Quay. The work started here will not only lead to more than 400 new affordable homes, it will also mean a new library, supermarket, bars and restaurants for Southampton residents.
"But for every new development like this, there are communities across the country in desperate need of new and affordable housing in their area.
"That's why even though we are making efforts to cut the record budget deficit we have confirmed £1.25 billion to guarantee most of the unfunded spending commitments made by the previous administration.
"This alone will protect over 8,000 jobs, and will mean work can start on 9,500 new social homes and 3,000 homes for sale at affordable prices."
Government measures to boost housebuilding
Housebuilding is currently at its lowest level than for any peacetime year since 1924. Since May, the government has set out a range of measures to boost this. These include:
scrapping regional housing targets, with plans to introduce new homes bonuses to encourage councils to approve new developments in their area
securing £1.25 billion of the previous administration's £1.5 billion Housing Pledge, despite the lack of sustainable funding and a massive government budget deficit
outlining plans for a new Right to Build, which will enable rural communities to set up local housing trusts and grant themselves planning permission for small numbers of new homes - subject to overwhelming public support expressed in a local referendum
Photographs of the visit are available from the DCLG Flickr channel
Published 28 July 2010