Eradicating waste in Whitehall saves £3.75 billion
Minister for the Cabinet Office Francis Maude's response to the Times' article 'Whitehall waste: the £31 billion cost of failure'.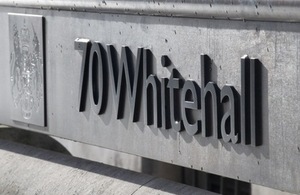 In an article entitled 'Whitehall waste: the £31 billion cost of failure' on 9 January, the Times asserted that ministers need to address waste in government processes to avoid billions more going down the drain.
Minister for the Cabinet Office Francis Maude has today made a statement in response, pointing to government action designed to cut waste which has already saved £3.75 billion.
 
He said:
When we arrived in government we pledged to be ruthless in hunting down and eradicating waste in Whitehall and that is precisely what we have done. Just in the first ten months to last March we saved £3.75 billion - equivalent to twice the budget of the Foreign Office, or to funding 200,000 nurses.

This has not been easy; spending hours renegotiating contracts, tackling vested interests and large suppliers and cutting back on spend on consultants and advertising does not make for glamorous or headline grabbing work. For the first time, we now take full advantage of the bulk-buying power government has; this means that in stark contrast to the bad old days where different parts of government bought separately and failed to get the best deal, we now buy together, reducing procurement spend by £1 billion so far and the new collective service means savings are expected to reach more than £3 billion a year.  
This work is vital. But we have a huge amount still to do. We are clamping down on the loss of revenue through fraud, error and debt; and this tough new approach also extends to big projects. Gone are the days when projects began with no agreed budget, no business case and an unrealistic delivery timetables. The introduction of our Major Projects Authority marks a sea-change in the oversight of government's major projects and will achieve better value for public spending.
 
And I am not alone in highlighting all the good work we have done so far; the Public Accounts Committee recently recognised and welcomed our transparent approach to savings. Meanwhile other countries, especially in troubled Europe, are now looking to us for how this is done.
 
We've done a lot already, but I don't plan to stop there. Our radical changes and the savings we have already made are just the beginning; we are now focused on making more sustainable savings, through cutting bureaucracy in the civil service and opening up public services.
Published 11 January 2012