Equestrianism has a role to play in London 2012 sporting legacy
World's Horse Welfare annual conference looks ahead to the Olympic and Paralympics.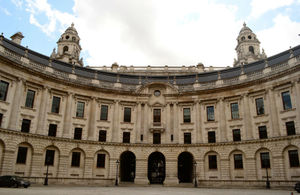 Minister for Sport and Olympics Hugh Robertson told World's Horse Welfare's annual conference that equestrianism must make the most of the opportunity of London 2012 to build a lasting legacy for the sport.
"Next year is a chance to showcase the sport - to put it at the centre of the Games and attract new audiences for the long term." said Robertson. "We saw a flavour of this in the summer's test event, which gave 3,500 schoolchildren the chance to see equestrian sport for the first time. And next year, with the iconic Greenwich backdrop and the biggest names on show, the opportunity will be even larger."
This year's conference, entitled "Olympics 2012: What legacy for horse welfare?" was held at the Royal Geographical Society. The Olympics Minister also talked about the important role that animal welfare will play as London welcomes those horses competing in the equestrian events that will take place in Greenwich Park.
The "highest standards" of equine care
"Equine welfare matters hugely, not just for the horse's benefit, but also because it's in the best interest of the sport. We simply won't see the highest standards of equestrianism next year unless we subscribe to the highest standards of equine care. That's why we already have a team of vets, Government advisers, and London 2012 officials working together to ensure all horses have the best possible experience."
Other speakers at the event included, the World Horse Welfare President HRH The Princess Royal, who also sits on the board of the London Organising Committee for the Olympic Games, racing journalist and broadcaster Alastair Down, World Horse Welfare's Chief Executive Roly Owers, and their Chairman, Christopher Hall.
Roly Owers commented on why a focus on the London Games was necessary for this year's conference; "With the Olympic Games fast-approaching, we felt the annual conference was an excellent opportunity to discuss a number of issues relating to the welfare of horses being used in sport. It is also timely as horseracing has hit the headlines on a number of occasions this year, most recently with the debate over the use of the whip."
Team GB in 2012
The Minister also spoke about the recent encouraging performances by Team GB and wished paralympic dressage rider Lee Pearson a recovery from his injury sustained earlier this year.
Mr Robertson said: "Seven medals at the World Athletics Championships in Deagu, fourteen at the Rowing World Champions in Slovenia, and stand out performances from other athletes like Mark Cavendish and Mo Farah, give real cause for optimism.
"So too on the equestrian side, we've got people like William Fox-Pitt, the world number one, leading the charge for British medals in eventing, and likewise Nick Skelton from winning bronze at the European Championship, and we all hope the legendary Lee Pearson can recover from recent injuries and build on his incredible nine Paralympic golds."
Press Enquiries: 020 7211 2210
Out of hours telephone pager no: 07699 751153
Public Enquiries: 020 7211 6000
Published 18 November 2011