News story
Equality in the UK and looking forward to the 2012 Paralympics
To coincide with World Photography Day, award-winning Brazilian photojournalist Andre Camara celebrates how UK society has justice and equality at its heart.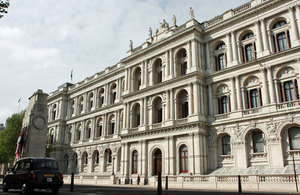 This Foreign Office film is one of the 'See Britain through my eyes' series featuring individuals from home and abroad talking about their experiences of modern Britain in the run up to the London 2012 Olympic and Paralympic Games. Andre Camara's film is being released to coincide with World Photography Day where members of the public are encouraged to celebrate photography and submit their own photos. Watch the film below.
In the film Andre describes his 20 years living in London and how he has witnessed and photographed many key events and moments in recent British history. Andre has spent many hours outside the Royal Courts of Justice and other bastions of the legal establishment covering numerous high profile cases. This experience has highlighted how justice is at the very heart of British society and how everyone is treated equally under the law. In his film he celebrates the UK's focus on equality more widely and how we strive to treat everyone with same rights and respect. He also discusses the UK's multiculturalism, commenting that the whole world is represented in many cities.
Andre has travelled extensively around the world, and each time he returns to the UK he continues to be struck by British respect for the rules and consideration of others whether it simple things be standing to the right on escalators to let others pass. He has witnessed first-hand what he describes as the resilience of the British through the IRA and 7/7 terrorist attacks. Andre produced the iconic photograph from the attacks in London on 7 July 2005 of the lady leaving tube station with her burned face in white mask - an image that was carried by newspapers around the world.
Always looking for the next challenge, Andre is now turning his attention to the 2012 Paralympic Games, just over a year away. Andre has a prosthetic leg and is a keen rower. He has been training intensively, hoping to qualify for a Brazilian Paralympic rowing team and says it would a dream to compete in 2012.
Andre was born in 1969. He started working as a photographer aged 15 for Brazilian Journal do Brasil, juggling school and work until he went to read history at PUC University. Amongst his first big assignments was the 1986 World Cup. At 17 he photographed the inside of a drug dealers war in a Rio slum - the powerful images prompted national outcry and the police intervention. 20 years later these images provided the inspiration for the film 'City of God.'
Andre has worked for Associated Press, Reuters and The Times amongst others. He was the only photographer in Baghdad for many months during the first Gulf War, and won his first awards for his coverage of the IRA bombing of city of London.
Published 19 August 2011