Press release
Equality and Human Rights Commission appoints two comissioners
The Secretary of State appoints Susan Johnson OBE and Lorna McGregor to the board of the Equality and Human Rights Commission (EHRC).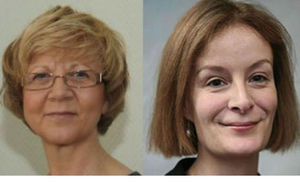 Nicky Morgan, in her capacity as Minister for Women and Equalities, has appointed Susan Johnson OBE and Lorna McGregor to the board of the Equality and Human Rights Commission (EHRC) for 4 years from 6 January 2015 to 5 January 2019.
The EHRC is Great Britain's designated equality body and 'A-rated' national human rights institution. These 2 new commissioners will have an important role to play as the EHRC is the country's expert body on equality and human rights issues and is the guardian of legal rights.
Following a competitive recruitment process, with a strong field of candidates, Mrs Morgan today (23 January 2015) announced the appointment of Susan Johnson and Lorna McGregor and said:
I am delighted to welcome Susan and Lorna to the Equality and Human Rights Commission and wish them every success in contributing to the important work undertaken by the commission.

Their expertise and experience in financial and legal fields will be a valuable asset to the EHRC.
Baroness Onora O'Neill, Chair of the Equality and Human Rights Commission, said:
We are very pleased to welcome Lorna McGregor and Susan Johnson as new members of the EHRC's board of commissioners.

Their wealth of knowledge and experience will strengthen the board and they will play an important part in steering the commission's ongoing work to make Great Britain a fairer place for all. I look forward to working with them.
Biographies
Lorna McGregor
Lorna McGregor is the Director of the Human Rights Centre and Reader in Law at the University of Essex. Prior to becoming an academic, she was the international legal advisor at REDRESS and a legal advisor to the International Bar Association. She holds an LLB (Hons) from Edinburgh Law School and an LLM from Harvard Law School.
Susan Johnson OBE
Susan Johnson is the Chief Executive at County Durham and Darlington Fire and Rescue Service, the first woman and non-uniformed chief executive to lead a fire and rescue service in the United Kingdom. Susan holds a first-class honours degree in Business Studies and an MBA from Durham University. She previously held a senior position in the Regional Development Agency for Yorkshire and Humber following a career in international marketing in the information technology sector. Susan was awarded the OBE for services to New Deal in the North East in 2000 and has held a number of non-executive and trustee roles in the private, public and not for profit sectors including Greggs plc, Legacy Trust UK and Durham University.
Notes to Editors
These appointments were conducted in accordance with the Office for the Commissioner for Public Appointments' code of practice for ministerial appointments to public bodies, which makes clear that the 3 principles governing public appointments are merit, fairness and openness.
The Equality and Human Rights Commission is a statutory body established under the Equality Act 2006. It is an independent body responsible for protecting and promoting equality and human rights in Great Britain. It aims to encourage equality and diversity, eliminate unlawful discrimination, and promote and protect human rights. The commission enforces equality legislation on age, disability, gender reassignment, marriage and civil partnership, pregnancy and maternity, race, religion or belief, sex, sexual orientation. It encourages compliance with the Human Rights Act 1998 and is accredited by the UN as an 'A status' national human rights institution.
The new commissioners will be paid £400.00 per day for approximately 25 days per year.

The new appointees will bring the number on the EHRC board to 12. The existing members are the Chair Baroness Onora O'Neill of Bengarve, who joined the board in November 2012; Deputy Chair Caroline Waters OBE, appointed in January 2013; Ann Beynon OBE, reappointed in December 2012 as Wales Commissioner; Kaliani Lyle, reappointed in March 2013 as Scotland Commissioner; Disability Commissioner, Lord Chris Holmes of Richmond MBE, appointed in January 2013; and commissioners Swaran Singh, Evelyn Asante-Mensah, Laura Cartensen and Sarah Veale, all appointed in January 2013. The Chief Executive of the EHRC, Mark Hammond, is ex-officio a member of the EHRC board.

Further information on the work of the EHRC is available.
DfE enquiries
Central newsdesk 020 7783 8300
General enquiries 0370 000 2288
Published 23 January 2015