News story
Environment Agency board appointments
Gill Weeks, OBE, has been appointed to the Board of the Environment Agency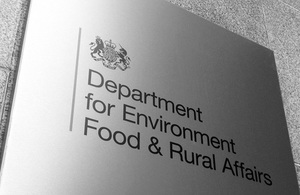 Gill Weeks, OBE, has been appointed to the Board of the Environment Agency by the Secretary of State for the Environment.
The reappointment has also been confirmed for Dr. Clive Elphick.
Board members provide non-executive leadership challenge and support to the executive through regular Board meetings, committees and groups. They also undertake individual lead roles on relevant issues and with local operational teams.
The appointment takes effect from 8 September 2014.
All non-Executive appointments to the Environment Agency Board are made on merit and political activity plays no part in the selection process. The appointments comply with the Code of Practice of the Commissioner for Public Appointments.
The Environment Agency is a Non-Departmental Public Body, set up under the Environment Act 1995 to take an integrated approach to environmental protection and enhancement in England.
The Environment Agency has major responsibilities in flood management, water resources and quality, climate change, land quality, chemicals, pollution prevention and control, waste, conservation and biodiversity, fisheries conservation, air quality and navigation.
There is a requirement for appointees political activity (if significant) to be declared. Gill Weeks has confirmed that she has not undertaken any significant political activity during the past 5 years.
Biographical details of Gill Weeks
Gill is an industry expert within the field of waste and resource management sectors, and was awarded the OBE in 2011 for services to the waste management sector. She is a Fellow of the Chartered Institutes of Waste Management, and is a Chartered Environmentalist.
Gill is currently joint owner of Dean Weeks Consultants Ltd. consulting on business operations, strategy, environmental regulation, and sustainability having previously (2006-2013) been a Regulatory Affairs Director at Veolia Environmental Services. She was the acting Policy Director at Environmental Services Association from 2010-2011.
Biographical details of Dr. Clive Elphick
Dr Clive Elphick is an independent director of National Grid Gas plc and of National Grid Electricity Transmission plc; a member of the Competition Appeal Tribunal; and a trustee of National Museums Liverpool and of Lancashire Wildlife Trust.
He was formerly a Managing Director at United Utilities Group plc; a Board member of a Department of State, a utility regulator and a regional development agency; and chairman of the CBI for the North West of England. He previously worked for ICI plc and Deloitte.
Published 24 July 2014