News story
Be #festivalaware at Lost and Found festival in Malta
Advice for British nationals to stay safe at Lost and Found festival in Malta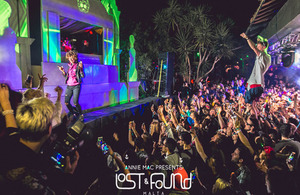 Before you leave
Get travel insurance. This is the only way to make sure you're covered if something goes wrong. Leave a copy of your policy with family back home.

Get a free European Health Insurance Card (EHIC). For necessary public healthcare treatment abroad.

Check our latest travel advice before you leave:

Take photocopies of your passport. Leave one at home, carry one with you.
At the festival
Don't get involved with drugs. At Lost & Found last year 11 British festival-goers were arrested on drugs charges. Five of them served sentences in prison. Penalties for drug offences are harsh in Malta. There is little distinction between classes of drugs in Maltese law.

Look after your passport. If you lose your passport, you will need to apply for an emergency travel document. We charge for this service, and you will miss out on valuable festival time. You may also need to change your travel plans.

Be aware at the festival venue. Don't take your valuables with you; thieves may operate in the area during the festival.

Be respectful to others.

In an emergency call 112 to speak to the emergency services.
Published 23 March 2016