Enhancing UK-US Business links
Foreign Office Minister for North America Alistair Burt welcomed Massachusetts Governor Deval Patrick to the Foreign Office.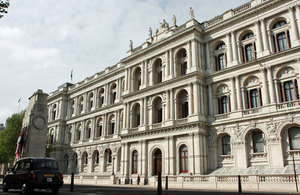 Speaking following his meeting with Governor Patrick on Wednesday, Minister Burt said:
"It was a great pleasure to welcome Governor Patrick to the Foreign Office. The United States remains the UK's most important bilateral ally and vital economic partner. Governor Patrick has consistently ensured that Massachusetts welcomes British investment. As a result of his visit I am delighted that two British businesses will now expand their operations in Massachusetts this year.
"The Governor, also, shared with me his personal insights into the current situation in the Middle East following his visit to Israel last week and we both affirmed our countries' dedication to seeking an urgent renewal of Middle East Peace Talks. I look forward to visiting Massachusetts in the future and continuing to develop a close working relationship with Governor Patrick which will continue to benefit both the UK and United States."
Phil Budden, British Consul General to New England said, "I'm delighted to accompany Governor Patrick to the United Kingdom. His visit underscores our country's links with Massachusetts, and the many opportunities for partnership to build our mutual prosperity.
"The innovative cleantech, IT, life sciences and financial services sectors in Massachusetts are a natural fit for doing business with Britain, and the outcomes of this visit will demonstrate the strength of these links."
During his visit to the UK, Governor Patrick met with Minister of State for the Department for Energy and Climate Change, Greg Barker, Minister of State for the Department of Health, Simon Burns, and Minister of State for Universities and Science, Department for Business, Innovation and Skills, David Willetts to strengthen bilateral co-operation in the many areas the UK and United States have mutual interests in common.
On Monday, Governor Patrick and a delegation of Massachusetts business executives met IT companies at the London Stock Exchange to establish partnerships to accelerate job growth and investment in the technology sector. The Governor also led a roundtable discussion with leading financial services firms at Mansion House, at Lloyds of London, and the US Ambassador.
On Tuesday, the Governor oversaw the signing of an agreement between the UK Stem Cell Bank, and the University of Massachusetts to share best practices for stem cell banking. Governor Patrick then travelled to Granta Science Park in Cambridge where he led a roundtable discussion on UK-Massachusetts collaboration in the life sciences, and held a town hall meeting at the Institute for Manufacturing. Governor Patrick also visited the Cambridge American Cemetery and Memorial. The cemetery contains the remains of 3,812 American military, of which 360 are from Massachusetts.
Published 18 March 2011