News story
Enhanced helpline to benefit survivors of Modern Slavery
Home Secretary announces partnership between Home Office, US charity Polaris and Google to establish a modern slavery helpline.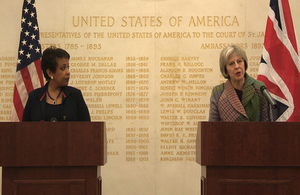 An enhanced UK modern slavery helpline, which will help more survivors ask for support and make it easier for the UK public to report suspected exploitation, is to be launched next year.
The helpline has been developed through a partnership between the Home Office, US non government organisation Polaris and with £1million funding from Google.org, to cover start up costs. A UK non government organisation will run the helpline.
The Home Secretary announced the plans for the enhanced helpline after chairing a roundtable with United States Attorney General Loretta Lynch at the US Embassy, London.
This took place the day before the Home Secretary is due to chair a discussion with fellow G6 Interior Ministers on strengthening international efforts to tackle the causes of modern slavery and increase transparency in business supply chains.
The enhanced helpline will enable the UK to tap into world leading experience and helpline capabilities. Polaris brings with it years of expertise and technical know-how that could transform the UK's existing operational response to modern slavery.
Home Secretary Theresa May said:
The United Kingdom and United States share a determination to free the victims of modern slavery and ensure those guilty of this despicable crime are swiftly brought to justice.

Today's commitment by Google.org and Polaris will improve our response to modern slavery and help stamp out this vile form of exploitation.

Modern slavery is a scourge on our society. By working together, governments, non government organisations, law enforcement agencies and businesses can shine a light on this issue and help stop ruthless criminals profiting from their trade in human misery.
The roundtable discussion focused on how both the UK and US are using strong partnerships, including Non government organisations, to provide survivors with better support and to bring perpetrators to justice.
Today, Polaris will issue a letter inviting expressions of interest from established non government organisations operating in the UK that meet key criteria, including experience working on modern slavery and/or operating a national helpline. UK non government organisations will be required to provide a statement on their suitability by January 22, 2016.
Polaris runs a national hotline in the US where a small team of trained operators are available to answer calls, 24 hours a day, seven days a week, in more than 200 languages. Survivors can also ask for help in other ways, including by text message. The hotline operators are highly-trained modern slavery specialists, who are able quickly to connect survivors of trafficking to a network of rescue and support services in their locality.
The data that is collected as part of these calls is then analysed using cutting-edge software, generating valuable intelligence that can help the police to catch and convict criminals - who would otherwise continue to exploit others for profit - and shine a light on the scale and nature of a crime that often goes unreported, including providing early warning of new trends in how human traffickers are operating.
The intention is that the enhanced UK helpline will emulate many of these features. It will launch next year.
Bradley Myles, Chief Executive Officer of Polaris, said:
Human trafficking is a global business that requires a global response so the millions of people exploited by this crime can receive the help and support they need no matter where they are in the world.

The launch of an enhanced modern slavery helpline for the UK is a critical step forward in this effort. Polaris is honoured to support the UK Government in this process, and looks forward to working with our partners leading the fight against modern slavery in the UK.

By working internationally, we will strengthen the cross-border safety net for victims of human trafficking.
Jacqueline Fuller, Director, Google.org, said:
Google.org is proud to support the launch of an enhanced modern slavery helpline in the UK.

Connecting and supporting anti-human trafficking helplines not only provides victims access to the services they need, but also helps identify illicit patterns within the business of modern slavery.

We look forward to our continued work alongside Polaris and the Home Office.
Published 9 December 2015