Press release
English veto brings balance and fairness to Parliament
The government has published proposed changes which would give English and Welsh MPs a veto over devolved matters which only affect them.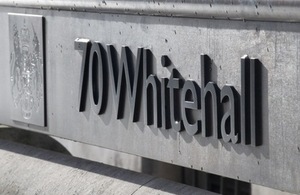 English MPs will have right to veto measures which only affect their constituencies
all MPs continue to vote on all key stages of legislation
one nation government fairly balances constitutional settlement as devolution to Scotland and Wales is extended
proposals give decisive say on tax to MPs whose constituents are affected
The government today publishes proposed changes to House of Commons rules which would give English (and English and Welsh) MPs a veto over matters which only affect them and are devolved elsewhere.
The introduction of 'English votes for English laws' will see the government strengthen the constitution with changes that make the law-making process sustainable in the long term and fair to all parts of the UK.
Under the plans every MP will continue to have a vote on every Bill. But English MPs will now have a veto in Westminster when debating matters that have been devolved to the Scottish Parliament or the Welsh or Northern Ireland Assemblies.
The proposals will also give the decisive say over tax measures to MPs whose constituents are affected by those changes once further planned devolution to Scotland takes place.
Chris Grayling, Leader of the House of Commons, said:
It's really important everyone feels our constitutional arrangements are fair, so this one nation government will end the anomaly that a majority of English MPs can be outvoted on matters which are devolved elsewhere.

At a time when we're giving more power to the Scottish Parliament and the Welsh Assembly, it's right the English should have a veto over things that only affect their constituents.
Notes to editors
Legislation is not required to implement the reforms. Amended Standing Orders, if approved by the Commons, will come into effect before the summer recess.

For the first time decisions about England (or England and Wales) – such as how the police are funded, how schools are organised and how money is shared out among councils – will be approved or vetoed by MPs representing England or England and Wales only.

The Procedure Committee will be invited to review progress after the first bills subject to the new rules become acts of Parliament.

Different parts of the UK have different devolution settlements – see which areas the Scottish, Welsh and Northern Irish administrations legislate on.

Existing block grant voting arrangements remain unchanged. The block grant allocations to the Scottish Parliament, the Welsh Assembly, and the Northern Ireland Assembly are calculated at spending reviews and adjusted regularly following decisions taken at fiscal events such as budgets or autumn statements. Approval from Parliament to pay funds into the respective devolved Consolidated Funds is granted through the supply estimates process – itself not subject to the English votes process.
Published 2 July 2015