News story
England team fights climate change en route to the World Cup
No hot air as Capello and his squad offset their flights using government approved scheme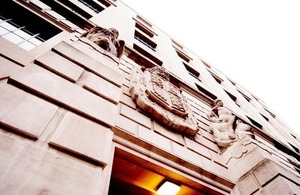 The England football team's flights to South Africa for the FIFA World Cup 2010 (TM), as well as to the training ground in Austria, are being offset through the UK Government's Quality Assurance Scheme (QAS) for carbon offsetting.
The offsets come from a Clean Development Mechanism (CDM) project called 'Braco Norte IV', a small hydropower station located in the northern portion of Mato Grosso state, in Brazil.
The Football Association has worked with the Department of Energy and Climate Change (DECC) to identify the project. Supporting the project demonstrates that The FA takes the environmental impact of England's World Cup involvement seriously and is taking credible action to mitigate its impact.
Brazil is an important country in terms of both football and climate change mitigation given that it is host to a huge carbon sink - the Amazon rainforest - as well as hosting the following FIFA World Cup in 2014.
Secretary of State for Energy and Climate Change, The Rt Hon Chris Huhne MP, said;
The FA's decision to offset the team's flights shows the great importance they place on tackling climate change. The Prime Minister and I want this Government to be the greenest ever and I am thrilled to see our football team also going green for the FIFA World Cup.
The UK Government's Quality Assurance Scheme provides consumers with confidence that the offsets they purchase actually do save the carbon that is stated, and The FA recommends that all England fans travelling to the FIFA World Cup who wish to offset their emissions also look for the government's Quality Assurance Mark.
FA General Secretary Alex Horne said:
I know the whole team are behind these efforts to lower our carbon footprint and leave a better world for the next generation.
We believe that everyone has a duty to tackle climate change. By supporting this government-approved project we can be confident that the emissions from our flights will be fairly offset.
For more information on the government's offsetting scheme please contact DECC press office 0300 068 5218
To contact the FA please email - Mark Whittle, Head of Media Relations: England and Wembley Stadium 0044 7908 617 226
Notes for editors:
The Braco Norte IV plant is a small river hydropower station, with a capacity of 14 MW, located in a remote region in the northern portion of the Mato Grosso state. Unlike large scale hydro projects, it generates almost no environmental impact. The region's main economical activities are agriculture (soya and rice), wood industry and cattle and is one of the fastest growing regions in the country. The business as usual energy supply to match this increase in demand was gas fired power plants - this project has supplanted the fossil fuels which would have been burnt and the carbon dioxide which would have been released into the atmosphere. The project also avoids the transmission losses which use to happen over the long distance to connect to the National Grid. It also provides increased stability thanks to locally distributed generation. Further details are available on the Clean Development Mechanism website: http://cdm.unfccc.int/Projects/DB/SGS-UKL1158864605.67/view

Information regarding the UK Government's Quality Assurance Scheme (QAS) for carbon offsetting can be viewed at www.direct.gov.uk/offsetting or on the ACT ON CO2 webpages, which contain a list of approved providers, and a short guide to carbon offsetting. AEA Group plc operate the QAS on behalf of the UK Government.

Clear is an approved offset provider under the UK Government Quality Assurance Scheme (QAS). More information about Clear is available at http://www.clear-offset.com
Published 3 June 2010